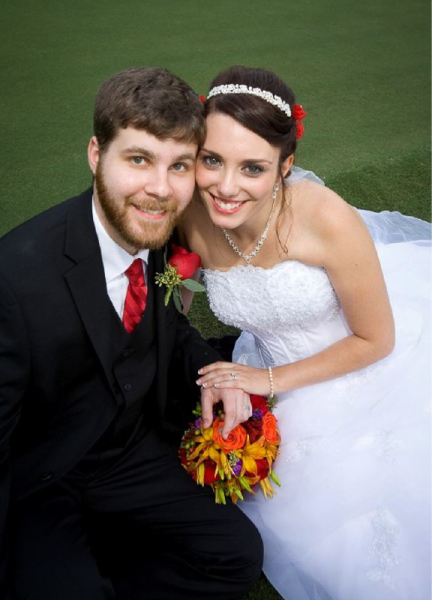 Carly Ann Croak and David Sean Patrick were married on October 3, 2014, on the veranda at Cherokee Run Country Club in Conyers, GA. The Reverend John Scharf officiated the evening ceremony.
The bride is the daughter of Stan & Lisa (Clark) Croak of Conyers, GA, formerly of Renovo. Carly's grandmother, Christine Clark, currently resides in Renovo. Carly is also the granddaughter of the late Richard Clark, of Renovo, the late Lewis Croak, of West Renovo, and the late Robert "Rip" and Mary Young, of Farwell. Carly is a graduate of Clayton State University, with a degree in English. She is employed as a Quality Control Editor/Inquiry Specialist at Market Force Information.
The groom is the son of Daniel and Christina Patrick of Conyers, GA. David is a graduate of Georgia Southern University, with a degree in Psychology. David is currently employed as a Pharmacy Technician at CVS/Pharmacy, as well as a substitute teacher for Rockdale County Public Schools.
Jennifer LeMire was the Matron of Honor for her sister, Carly. The Bridesmaids were Haley Orr, a long-time friend of the bride, and Katherine Patrick, the groom's sister. The bride's nieces, Sierra and Kelsey LeMire, were the Flower Princesses.
Andrew VanNatta served as Best Man for his best friend, David. Serving as Groomsmen were Ryan Alexander, a long-time friend of the groom, and Jeffrey Croak, a brother of the bride. The bride's nephews, Quinn LeMire and Phoenix Croak, served as Ring Security.
The happy couple currently resides in Conyers, GA.