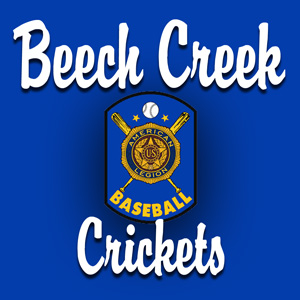 BEECH CREEK – Baseball includes a lot of double headers … back-to-back games in the same day. Recent wet weather backed up the Beech Creek Junior Legion West Branch conference schedule so they decided to play two games on Saturday. The first, they hosted Williamsport at noon … the second necesitated a trip to state college for a 5:30 p.m. matchup.
Fortunately, the Jr. Crickets picked up a pair of wins for their effort.
Against Williamsport, Beech Creek shut out the Billtown team 5-0 then beat feet to State College for a 8-3 win.
In the first game, Beech Creek scored all the runs they would need in the first inning, plating 2 runs then tacked on another run in the third inning and 2 more in the fourth for good measure.
Zane Probst had a pair of base hits against Williamsport with Ross Glossner, Tom Pringle , Jake Sweitzer and Evan Conklin all producing one single each for the Jr. Crickets.
Pringle worked the mound for the first five innings with Colton Wagner coming in for the final two innings. The duo combined for allowing 4 hits, 4 walks and striking out 3 batters.
In the second game, it was a 1-1 tie after three innings of play, then Beech Creek inched past State College scoring a lone run in the fourth inning then 3 more runs in fifth inning and another 3 in the sixth. Sate College responded with a pair of runs in the seventh inning to no avail as the Jr. Crickets earned the 8-3 win.
Rocco Stark and Caleb Shade each had a pair of singles in the second game with Glossner, Pringle, Probst and Payton Johnson all contributing a base hit each for Beech Creek.
Probst went the distance on the mound for the Jr. Crickets against State College allowing 7 hits, 3 walks and striking out 3.
The win over State College forces a winner-take-all game tomorrow at 2 p.m. with State College traveling to Beech Creek.
The winner of that game will advance to the regional tournament in Berwick.
| | | | | | | | | | | |
| --- | --- | --- | --- | --- | --- | --- | --- | --- | --- | --- |
| July 15, 2017 | 1 | 2 | 3 | 4 | 5 | 6 | 7 | R | H | E |
| WILLIAMSPORT | 0 | 0 | 0 | 0 | 0 | 0 | 0 | 5 | 6 | 2 |
| BEECH CREEK | 2 | 0 | 1 | 2 | 0 | 0 | X | 5 | 6 | 2 |
| | | | | | | | | | | |
| --- | --- | --- | --- | --- | --- | --- | --- | --- | --- | --- |
| July 15, 2017 | 1 | 2 | 3 | 4 | 5 | 6 | 7 | R | H | E |
| BEECH CREEK | 0 | 0 | 1 | 1 | 3 | 3 | 0 | 8 | 8 | 0 |
| STATE COLLEGE | 0 | 0 | 1 | 0 | 0 | 0 | 2 | 3 | 7 | 0 |