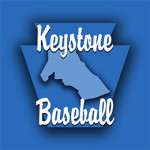 CARLISLE – Getting to the state championship finals in any sport is never easy. Just ask the Keystone Intermediate 50/70 All-Stars.
After battling KAU Little League, a team that is comprised of players from the Unionville-Chadds Ford and Kennett Consolidated School Districts, for 10 innings with the score knotted at 3-3, it was a battles of wills and the 'Blew Crew' finally prevailed.
Keystone finally opened up some opportunities in the top of the 11th inning. Nash Welch led off with a single, advancing to second on an errant KAU throw. Lane Porter followed by putting the ball in play and reaching base on a KAU error with Welch advancing to third base.
Then on another KAY miscue, Porter steals second base and Nash scores to make the score 4-3. Porter would advance to third base on yet another KAU error.
Then with one out, Cayde McCloskey hit a hard line drive for a base hit, scoring Porter.
Then Kade Falls came to the plate offering up a sharply hit ground ball that KAU misplays with Falls reaching base safely, advancing McCloskey to second base. Then Aiden Major sent a line drive to center field to score McCloskey and Falls to give Keystone the 7-3 lead.
In the bottom of the 11th inning, KAU mounted a comeback bit could only muster 2 runs before Keystone to earn the third out ending the game with relief pitcher, Brady Bendik striking out 3 of the six batters he faced in the final inning.
Earlier in the game, McCloskey had another base hit, a double and a solo home run. Brady Bendik, Ryan Thompson and Nash Welch each had 2 base hits and Major had a double.
McCloskey had the start on the hill for Keystone pitching the first 5 couple innings giving up 6 hits, 2 walks, striking out 7 batters.
Bendik came on the mound in the sixth inning giving up 4 hits no walks and striking out 11 for the win.
KAU will now drop into the lower bracket to battle back and battle the winner of the Levittown and Norwin game Sunday, July 16 at 2 p.m. with the winner to face Keystone Monday, July 17, at 4 p.m. in the final round.
| | | | | | | | | | | | | | | |
| --- | --- | --- | --- | --- | --- | --- | --- | --- | --- | --- | --- | --- | --- | --- |
| DATE | 1 | 2 | 3 | 4 | 5 | 6 | 7 | 8 | 9 | 10 | 11 | R | H | E |
| KEYSTONE | 0 | 0 | 0 | 1 | 2 | 0 | 0 | 0 | 0 | 0 | 4 | 7 | 15 | 2 |
| KAU LL | 1 | 0 | 0 | 0 | 2 | 0 | 0 | 0 | 0 | 0 | 2 | 5 | 10 | 4 |