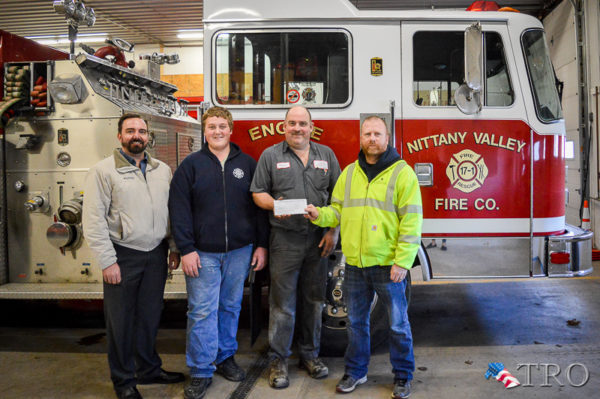 PORTER TOWNSHIP – Representatives from Pennsylvania American Water visited the volunteers at Nittany Valley Volunteer Fire Company March 2 to officially award $500 to the local fire company. The funding was made possible by the Pennsylvania American Water Firefighting Support Grant Program.
NVVFC, 5101 Nittany Valley Drive, Lamar, a 501(c)4 organization, applied for funds to purchase new hose back in January in an effort to begin replacing older hose and improve operations.
"It's a great program that American Water can support the local fire departments with the purchase of new equipment," said Jake Gentile, Pennsylvania American Water field operations superintendent for Northwest PA. Gentile also thanked the fire company volunteers for their efforts on behalf of the community served.
Kevin Frank, NVVFC vice president, thanked the representatives for the grant. "This grant towards hose for our emergency response operations will greatly help the local fire hall," Frank said, noting fundraising for hose is ongoing. "Our goal is to purchase the new hose sections as soon as possible to ensure safe and efficient procedures."
The NVVFC volunteers serve 26 square miles in rural Clinton County, including 12 miles of Interstate 80. In addition, the company also assists fire companies in both Clinton and Centre counties. In 2015, the volunteers responded to about 300 calls.
Learn more about NVVFC at www.nittanyvalleyfire.org.