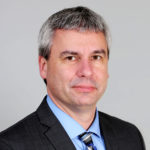 LOCK HAVEN – Keith Kibler has announced his candidacy for election as Magisterial District Judge in Clinton County District 25-03-01 which serves residents of the townships of Allison, Castanea, Colebrook, Crawford, Dunnstable, Gallagher, Pine Creek I and II, Wayne, Woodward; the City of Lock Haven; as well as the boroughs of Avis and Flemington.
Kibler will seek both the Republican and Democratic Party nominations in the May primary election.
A lifelong resident of Clinton County, he is a 1988 graduate of Lock Haven High School, attended Lock Haven University, and was hired in 1992 by Lock Haven City Council as a patrol officer in the Lock Haven Police Department. He rose through the ranks and was appointed as a patrol supervisor in 1998, to Detective Sergeant in 2013, and was named Chief of Police in 2014.  As Chief of Police, Kibler oversees a department that operates 24/7 with thirteen police officers and four non-police staff members.
During his law enforcement career over the past 25 years, Kibler has been involved in investigating various crimes including sale of illegal drugs, sexual assault, child abuse, arson and homicide.
He has taken training courses for advanced accident and homicide by vehicle investigations, standardized field sobriety testing, and is a certified breath test operator.  He is Class A certified to conduct electronic surveillance and ENRADD speed timing device certified.  Kibler attended FBI law enforcement development courses and participated in Building Community-Oriented Response to Domestic Violence training.
"I am running for Magisterial District Judge to put my experience and ethical leadership to work for the people served by magisterial district one.  I have a proven track record of working efficiently and fairly with the public and my staff.  I also have the temperament and flexibility that is necessary to deal effectively with the variety of civil and criminal issues that come before the court.  My decisions will be fair, timely, reasonable and always made after a careful review of the facts and the law.  The person behind the bench represents the face of the justice system so it's important to me that people will leave the court believing they've experienced a fair, just, and unbiased process regardless of the outcome," Kibler said.
Kibler has served on the YMCA Board of Directors, helped coach his children's baseball and softball teams, served as program coordinator and volunteered with the Clinton County Camp Cadet Program, and assisted his son's Cub Scout and Boy Scout Troops.
He is a member of the Rotary Club of Lock Haven, Pennsylvania Chiefs of Police Association, Criminal Justice Advisory Board and the CJAB Mental Health Sub Committee.
Kibler and his wife Marjori reside in McElhattan.  They are the parents of two children, Brandon, who attends Shippensburg University, and Rachel, a student at Central Mountain High School.
They are members of Holy Spirit Parish.
Kibler is the son of Jerry and Sandra Kibler, long-time residents of Lock Haven. His father is a retired United States Postal carrier and his mother is a retired clerical worker.