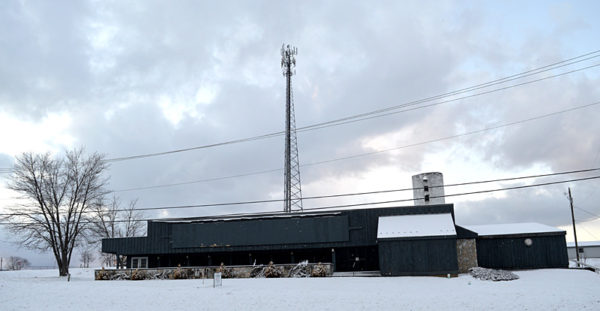 By LaKeshia Knarr
LAMAR TOWNSHIP – The Clinton County Fair Association (CCFA) recently purchased over 6 acres of land adjacent to the fairgrounds in Mackeyville and is looking forward to the potential the extra land provides.
James L. Berkebile sold two parcels to the CCFA, a 501(c)3 nonprofit, for a total of $632,000, according to county records.  He also gifted $287,000 to the CCFA by way of a portion of the land, equipment and a liquor license.
One of the parcels, roughly 1.7 acres, was sold for $382,000 to CCFA Real Estate and includes the former Belles Springs Family Restaurant property, situated along Fairground Road. The second parcel, about 5.7 vacant acres behind the restaurant, was sold to CCFA Inc. for $250,000. The vacant lot also contains a cell phone tower – the rights to which do not belong to CCFA.
"We've had an agreement with Mr. Berkebile in the past to use a part of his field during the fair week," explained CCFA board President Philip Courter. "Once it came up for sale, it made sense for us to try to acquire that."
Courter said the nonprofit CCFA, led by an 11-member board, set up two limited liability corporations (CCFA Real Estate and CCFA Inc.) to purchase and manage the properties, as the restaurant was a for-profit establishment and carries a liquor license.
Discussions relating to purchasing the property began around the beginning of November 2016, he said.
"Our future growth or expansion possibilities are yet to be determined," Courter added.
As for the restaurant, the CCFA has already put the property back on the market with Fish Real Estate, according to Courter.
Berkebile said he wanted to donate a portion of the costs to acquire the property and amenities back to the CCFA because of the worthwhile work the fair volunteers do on behalf of Clinton County residents.
"I believe that the Clinton County Fair provides a real service to Clinton County," Berkebile told therecord-online. "They work with the 4-H groups, which I think is a vital group for this area. It teaches young men and women skills they can use throughout life. The fair also provides entertainment. It allows us to show off one of our major economies in the state of Pennsylvania – farming."
"It is a wonderful gesture for Mr. Berkebile to donate a portion of the sale back to us," said Courter. "The Fair Association is run by volunteers. No one is paid. We do it because we love the fair and we like to see it benefit the community. We're grateful for this gift to help us expand and make the fair bigger and better for the community."
– – –
Learn more about the CCFA, the Clinton County Fair, and fairground events or rentals at www.clintoncountyfairpa.com.