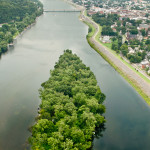 By John Lipez
No Luck:
A couple weeks back we shared with Down River readers The Record's efforts to set up some kind of in-house/online streamed candidates' night appearance spotlighting the aggressive 76th district state House race.
We had hoped this would be the week such an event could be staged between incumbent/ House minority whip Mike Hanna and Republican challenger Stephanie Borowicz. We even lined up the big room at the Ross Library for a give-and-take.
Unfortunately, it won't be taking place. Why, you ask? We could not get a timely response from candidate Borowicz. We tried, by phone, by email, by Facebook message, by GOP intermediaries, but not a word back from her until late this last Sunday night, Oct. 30, a couple days before the date for which the room at the Ross Library had been booked. Her emailed answer was no.
She did thank me for the inquiry and extended her apologies for "being unable to attend."
Her belated response turned out not to be a surprise; we learned the Lock Haven Express had the same lack of success, whether trying to set up a candidates' forum or get a response for a story.
Never had that happen before with a legislative candidate in the area. You can draw your own conclusions as to what that means to you but here it says candidates for elected jobs in Harrisburg should be looking for opportunities to get their message out to prospective voters, not shrinking from them.
This unwillingness to participate in a dialogue with your opponent only harms the democratic process, denies the voter the ability to better gauge what the candidates have to offer. Ms. Borowicz did not tell us a lot at her October appearance at the Clinton County Christian Coalition candidates' night and we don't have much to go on since then. Other than church work (which is fine), she has no local track record, she comes across as a blank slate relative to what attributes she might bring to her job; we've seen nothing but right wing talking points on her website and from her Harrisburg-dispatched mailers.
Contrast that blank slate with the record of accomplishment from incumbent Rep. Hanna who has paid his dues in Harrisburg, rising to House minority whip, the second ranking Democratic position in the House. Folks can criticize the power structure in Harrisburg but Hanna has put his seniority to work there to return more than a fair share of state tax dollars to his home district.
It is believed here Hanna is Clinton County's highest ranking legislator in a century or more. History tells us likely the most prominent politician born in the county was Daniel Hastings, a Salona native and Republican who served as governor from 1895 to 1899 (he also, it might be noted, was at one time editor of the Bellefonte Republican newspaper).
While Hanna may be in the minority in a GOP-controlled House, he clearly has the ear of Democratic Gov. Tom Wolf and that is a good ear to have. He has connections, he has clout; he is a social conservative on many issues which play well here in rural Pennsylvania and on top of all that he is a good and decent human being.
He has the support of some very prominent business, industrial and educational leaders in our county. They know first-hand he is a man of influence in the capitol. They know this county will lose that hard-earned political clout if Hanna is not successful next Tuesday.
Down River wrote back in the spring that GOP movers-and-shakers in Harrisburg had the money and wanted to take out a couple Democratic legislators in rural parts of the state. Word was party backers were willing to drop big bucks to remove state Sen. John Wozniak from Cambria County and Rep. Hanna from here at home. The report of those efforts proved true.
They succeeded with Wozniak who saw the considerable task before him and withdrew his re-election bid over the summer and is currently finishing out his last term in Harrisburg.
They are now throwing everything at Hanna, using the previously unknown Borowicz as their foil in an attempt to take him down. Harrisburg Democratic operatives have responded in kind, both sides fattening the U.S. Postal Department coffers with their voluminous and often truth-stretching mailers.
Clinton County is getting a taste of how hardboiled politics is played in the larger arena (gee, have you seen an occasional negative ad in the ongoing U.S. presidential race? How about Toomey versus McGinty for U.S. Senate?) and it's not fun to watch.
While the system at times is unseemly, it's still the best system the world has ever seen (and we're hoping the republic survives the presidential race; seriously). So it is incumbent upon all of us to get out and vote next Tuesday. Before you do, weigh the merits of the re-election of House minority whip Mike Hanna, a legislator who has represented his constituency well for a quarter century, versus the blank slate of newcomer Stephanie Borowicz whose bio raises a lot of unanswered questions.
For the benefit of Clinton County and its residents, Hanna is clearly the better choice.