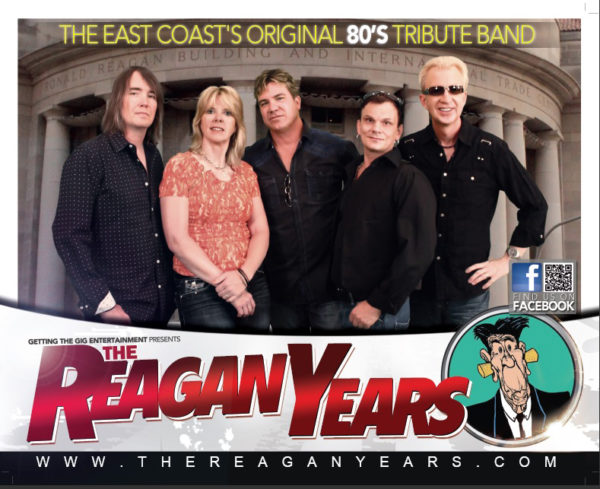 LOCK HAVEN — It's a win-win for summer concert lovers and fans of the Jaycees Labor Day Regatta.
Maryland-based The Reagan Years had its Lock Haven summer concert appearance washed out in late July when a storm hit after just a couple songs from the 80's rock group. But through the efforts of Woodward Township supervisor and regular summer concert-goer Kyle Coleman, the group will make a return appearance to cap off this week-ends' Regatta, a special Monday night appearance on the floating stage.
There had been much discussion over the years about getting the Reagan Years on the floating stage. Andy "Sy" Seyler grew up in the Mill Hall area and still had some local connections with old friends who floated the idea of his band being part of the summer concert series. This year they were scheduled to play on July 31, but a storm put a quick end to the performance.
Coleman said that night it appeared like a missed opportunity and the area may likely not get the opportunity to see the band anytime in the near future on the floating stage. He said the next morning he ran into Seyler at Dunkin Donuts and learned the group was open on Labor Day. After some brain-storming, Coleman left there and called Lock Haven Mayor Bill Baney. After that, Coleman said, two old Seyler friends, Wade Williams and Dave Williamson, became involved and the money was raised and necessary approvals given to make the Monday night concert happen.
Once the date and time were established, Coleman and friends set out and were able to get local businesses and members from the boating community to join together and raise enough money to make the event a go. He said the businesses are "truly the backbone of the whole deal." They are: Haywoods on the Green, Haircuts by G, Woodward Automotive, Discount Pool and Spa World, Central PA Auto Auction, Woodward Township Recreation, Miller Brother's Auto Sales, Coleman's Landscape, Bill's Happy Camper, MacIntyre Chevrolet, Walker/Moriarity Funeral Homes, Economic Partnership, Puff & Snuff, Feger's Insurance, Puff Super Value, Keystone Security, Mann's Garage, Lamar Twp. Volunteer Fire Company (Salona, PA), Four Seasons Logging, The Old Corner, BryerTech, The Craft Barber, Hairtique Too, and Your Home Energy. Coleman also thanked the boaters who chipped in and media sponsors The Record, therecord-online, 92.1/Schlesinger Communication and The Express.
Coleman said, "Andy is very excited about getting back up here to play in front of his family and hometown. Once the races have ended Monday, the floating stage will be towed back into position and show time is scheduled for 6 p.m. They will play until 8 p.m. with a small break. Please come out and support the efforts and hardwork that the Jaycees put into this annual event and listen to some great 80's music from the East Coast's Premier 80's band."