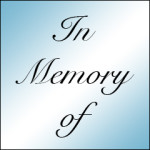 Frances I. (Woodward) Wilson, 73, went to be with our Lord and Savior on Friday, April 21, 2017 at Bucktail Medical Center, Renovo.
She was born on February 9, 1944 in Renovo to the late William Burney and Ruth Condon Woodward.
Frances was married to Homer Lee Wilson, whom preceded her in death.
She is survived by her daughter, Tina (Rex) Cain of Mableton, GA; two sisters, Alice Hostler and Jane Boor, both of Port Royal; two brothers, William and David Woodward, both of Linden, NC; four grandsons, Brandon Heaton of Scranton, Daniel Heaton of Dallas, GA, and Caleb and Eli Heaton, both of Mableton, GA; and three great-grandchildren.
A memorial service will be held at a later date.
In lieu of flowers, memorial contributions may be made to the Clinton County SPCA, 33 Mill Hill Rd., Lock Haven, Pa 17745.
Arrangements are under the direction of the Donald G. Walker Funeral Home, Inc., 231 High St., Flemington, Pa.
Online condolences may be sent by visiting www.donaldwalkerfuneralhome.com