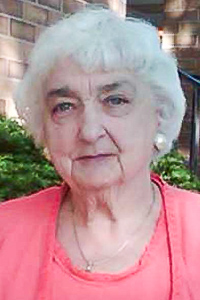 Willa Mae Hyzer, 90, a resident of the Bucktail Medical Center, S. Renovo, PA, formerly of 301 Rolling Ridge Dr., State College, PA died April 19, 2017 at the Medical Center. Born Jan. 30, 1927 in Renovo, PA she was the daughter of the late Edward & Idell Kelly Shady. On March 4, 1989 she married Stanley F. Hyzer who died Jan. 28, 2006. Willa was the former proprietor of Sutliff's Hotel, cooked for establishments in Renovo, worked at Piper in South Renovo and as a homemaker. She was a member of the Nittany Baptist Church, State College who enjoyed crocheting, painting on fabric, canning, cooking and baking. Her warm and endearing personality resulted in many rich friendships in Renovo, Erie and State College.  She was happiest when hosting and feeding family and friends.
She is survived by three daughters, Cheryl Riggle (Charles Bushor), Emporium, PA; Krista D. Gray (Tim Bratton), S. Renovo, PA and Laura L. (Ralph) McCloskey, Buckhannon, WV, one son, Frank G. (Margaret) Sutliff, Renovo, PA, two step-sons, Steve Hyzer and Stanley (Joan) Hyzer both of Erie, PA, one brother-In-law,  Edward B. Sutliff, Renovo, PA., seven grandchildren, three step-Grandchildren, ten great-grandchildren and four step-great-grandchildren.
She was preceded in death by three sisters: Bernice Bomba, Pearl Witchey and Elsie Fetterman, one brother, Patrick Shady,  and two former husbands, Francis G. Sutliff and Orlando Tassa.
A memorial service to honor the life of Willa M. Hyzer was held Tuesday, April 25, 2017 at 2 PM in the 1st United Presbyterian Church, 6th St., Renovo, PA with Martha Sykes officiating. Friends were received in the church 1 hr. prior to the services.
Memorial contributions may be made to the Bucktail Medical Center, 1001 Pine St., Renovo, PA  17764
Arrangements are entrusted to the Dean K. Wetzler, Jr. Funeral Home, 320 Main St., Mill Hall, PA. 17751
Online condolences @ HYPERLINK "http://www.wetzlerfunerl"www.wetzlerfuneralhome.org