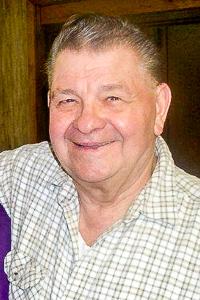 RENOVO – Howard R. Schiff, Jr., 79, 136 5th St., Renovo, PA died Feb. 24, 2017 in the Emergency Room of the Bucktail Medical Center. Born May 8, 1937 in Jersey City, NJ he was the son of the late Howard R. and Margarette Adair Schiff. On June 17, 1962 he married Joan A. Franklin who died March 12, 2006. A life-long truck driver, Howard drove for Ransdorf Trucking and Lucas Trucking where he had worked for more than 20 years. He had also driven truck for Renovo Disposal and Hometown Distributors.
Howard was a U. S. Army veteran during the Korean Conflict. He was a member of American Legion Post 42, B.P.O.E. # 334, Aeries Lodge 516, F.O.E., a social member of the Sons and Daughters of Italy Lodge 149 all of Renovo , the Jersey Shore Moose Lodge and the N.R.A. Howard looked forward to the annual fish fry at the Renovo Elks and his daily visits with the Coffee Club at Socky's.
He is survived by, two daughters:  Brenda J. (Luther "Bugger") Page, Lock Haven and Tracey E. (Hank) Williams, Renovo, PA, one son: Steven J. (Tina) Schiff, Woodland, CA, sisters: Elizabeth (Jon)Finkledey and  Barbara (Vernon) Storey, both of Aiken, SC  and  Patricia (George) Alburtus, Lodi, NJ,    11 grandchildren, 5  great-grandchildren,  and  Fiancee : Teresa Alfarano, Renovo, PA .
A memorial service honoring the life of Howard R. Schiff, Jr. will be held Fri., March 3, 2017 at 12 Noon at the First United Methodist Church,  7th Street, Renovo, PA with Martha Sykes officiating. Friends will be received in the church 1 hr. prior to services. Interment, St. Joseph Catholic Cemetery, Hyner, PA .
Memorial contributions may be made to the American Cancer Society thru the funeral home.
Arrangements are entrusted to the Dean K. Wetzler, Jr. Funeral Home, 320 Main St., Mill Hall, PA  17751
Online condolences at www.wetzlerfuneralhiome.org