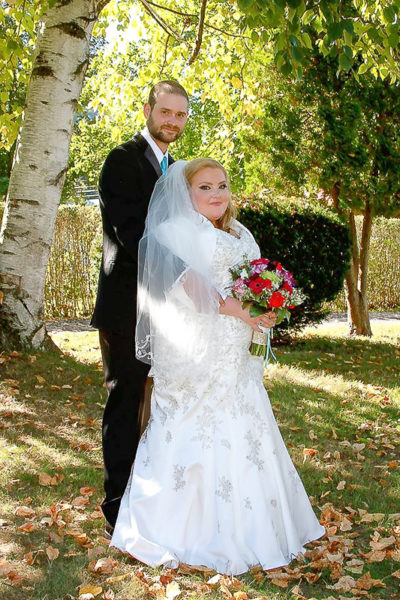 SOUTH RENOVO – Colette Elaine Finnefrock was given in marriage by her parents Edward and Paula Finnefrock of North Bend to Douglas Paul Meredith on September 24, 2016.  Doug is the son of Paul and Lisa Meredith of Swissdale.  Father Donald Dusza officiated the ceremony at St. Joseph's Catholic Church in Renovo.  A reception followed at the Elks ballroom in Lock Haven.
Their rehearsal dinner was hosted by parents of the groom at their home.
Douglas is employed as an equipment operator and truck driver at the Wayne Township Landfill.  Colette is employed by Northwestern Human Services as a behavioral health worker at the Renovo Elementary School.
Colette wore an alluring strapless, sweetheart neckline satin trumpet gown with gold beading and lace.  Also, a matching jacket and veil.  She carried a bouquet of roses, orchids and mums in peacock colors.  Her maid of honor was Morgan Rich and her matron of honor Megan Rebuck.  Bridesmaids were Amy Jo Cohick and Melissa Baney, sisters of the groom.  Also, Leeann Minihan, Sara Costulas, Heather Wertz and Marissa McDermit.  Her flower girl was Paige Jones, cousin of the bride.  All the girls wore gowns of blue, green, purple and teal.
Douglas was attired in black tuxedo with teal vest and tie.  His best man was Tyler croak and the groomsmen were:  Josh Diel, Scott Wian, Jason Dumm, Luk and Jake Baney, nephews of the ghroom, Lance Finnefrock, brother of the bride, Keith Redis, cousin of the bride.  The ring bearer was Clayton Cohick, nephew of the groom.
They were so fortunate to be surrounded by family and friends, some who traveled great distances.  Especially Doug's grandparents Mr. & Mrs. Fred Page; Mr & Mrs. Stan Meredith and Mr. & Mrs. Billy Probst.
A beautiful solo was done by Autumn Dauberman accompanied by Patricia Lacy.
The couple spent their honeymoon at Punta Cana in the Domican Republic.
They are making their home in South Renovo and are expecting their first child in August.