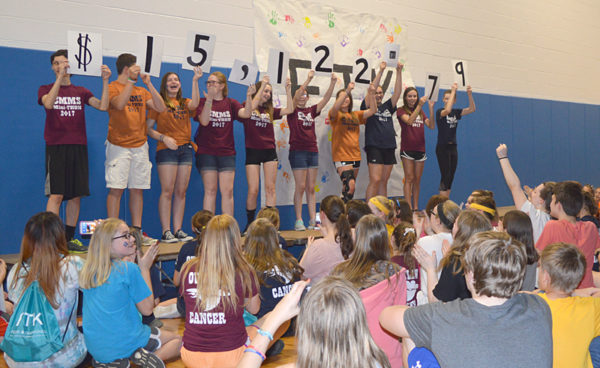 By LaKeshia Knarr
MILL HALL –After months of raising awareness for childhood cancer and fundraising for the cause, students at Central Mountain Middle School were elated this evening to see they well surpassed their goal of $10,000.
Through outreach to the community, fundraisers within the school and pure motivation, they were able to raise $15,122.79 for Four Diamonds, an organization aiming to conquer childhood cancer. Mini-THON fundraisers are modeled after the Penn State IFC/Panhellenic Dance Marathon (THON), and beginning this afternoon at 2 p.m., students at CMMS began their own 6-hour dance marathon.
Before the final tally was announced, CMMS Vice Principal Mike Baughman told students, "It's not just about how much money we raised … it's about the impact we're making and the families and children we're going to affect."
Featured during the event was the Johnson family. Peyton Johnson, an eighth grader who was one of the 30 students selected to serve on the Mini-THON Committee this year, introduced his 7-year-old brother Alex and shared his story.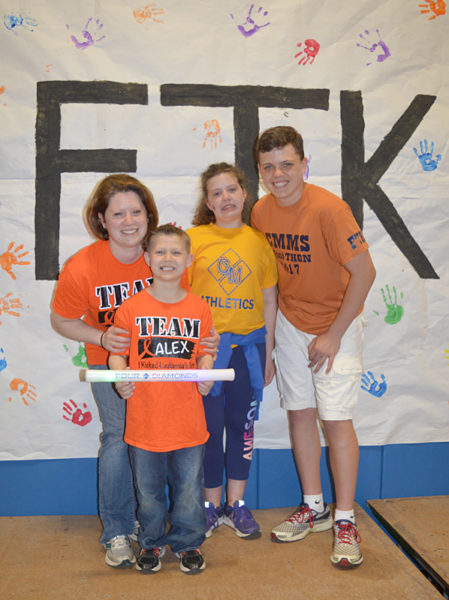 On March 5, 2014, just after Alex turned 4, his family learned his blood cells and bone marrow were about 90 percent cancerous and he was diagnosed with leukemia.
However, Alex's orange shirt at the Mini-THON shared the good news: "I kicked leukemia's butt" was lettered on the front and "diagnosed 3/5/14 – beat 4/19/17" on the back. His family explained that Alex had his last intravenous chemotherapy treatment with the doctors on April 19 and will finish his last chemo, an oral treatment he has been taking daily, on May 9 at home. Lindsey, Alex's mother, said his blood is testing leukemia-free.
Looking out at the active crowd, who repeatedly chanted "Alex, Alex, Alex," she said, "It's just pretty amazing these young kids decided this is something they wanted to do."
Many donned shirts of varying colors that read "CMMS Mini-THON 2017" on the front and the theme on the back, "Outlaw Cancer."
The final part of the evening took place in the field in front of the middle school. Community members, students, faculty and staff took part in lighting 25 sky lanterns, and setting them off – a solemn gesture of commemoration.
Jessica Whipple, advisor, was proud of the students' and community's efforts. "We made $13,000 last year and it looked like donations were coming in slowly. The last few days, donations kept rolling in. We're just amazed that we beat last year's goal," she said.
Last April, students raised $13,526.89 at their first-ever Mini-THON.
Learn more at www.fourdiamonds.org/mini-thon/.
This slideshow requires JavaScript.
Video Report