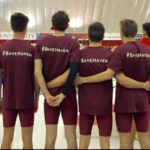 LOCK HAVEN — With some decision due later this week on proposed changes in Lock Haven University's sports setup, supporters of the men's track and field program have announced a public on-campus rally Tuesday afternoon.
Using the hashtag #SaveHaven, supporters have taken to social media to announce the rally. Participants are to gather at Rodgers Gym at 12:15 p.m. on Tuesday and march to the campus amphitheater where the rally will take place. Speakers are to include alumni, parents, former coaches and community members, faculty and students.
The social media post notes the LHU administration has proposed to cut men's track and field. The administration has cited a financial crunch due to a drop in enrollment and also a need to remain in compliance with federal gender equity regulations, this as part of its proposed intercollegiate sports realignment. School president Dr. Michael Fiorentino Jr. is expected to act on the proposal the latter part of this week.
The #SaveHaven group is seeking public support "to show that we student athletes should not be terminated." Track and field has been part of the university sports program for better than a century. As proposed by the school administration, women's track and field and cross country would continue, as would men's cross country.