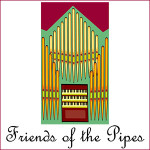 LOCK HAVEN – The Friends of the Pipes at Great Island Presbyterian Church announces its 2017 Winter Recital Series featuring talented regional musicians presenting concerts from January through March. All concerts will take place in the sanctuary of the church which is located at 12 West Water Street, Lock Haven. Season tickets are available now at the church office or at the door.
"Nothing like this exists in Lock Haven", said Christina Frank who schedules the performers and recitals. "Winter is the perfect time to enjoy fine music without having to leave our town" she said.
The Friends of the Pipes Winter Recital Series begins on Saturday, January 28th at 2:00 pm with a concert by Marisa McCollough Lentz, coloratura soprano. After graduating from Central Mountain High School, Marisa earned her bachelor's degree from Penn State University and her Masters of Performance degree from Shenandoah Conservatory. She will exhibit her sparkling coloratura and upper extension in her performance of selections ranging from the Baroque to present day. She is the daughter of Wayne and Pamela McCollough of Lock Haven. You may learn more about Marisa at www.marisalentz.com.
Marisa will be accompanied on piano by Eric Waggoner who earned an Artist Diploma and a Master's Degree from Shenandoah Conservatory of Music. He completed a Bachelor of Arts in piano performance from Indiana University of Pennsylvania.
Mark your calendars for Sunday, February 12th at 3:00 pm when the multi-talented Theodore Lentz will perform on euphonium, organ, and with his beautiful baritone voice. Theodore earned both his B.A. and M.A. degrees from Mansfield University, where he served as principal euphonium in the premier wind ensemble and principal trombonist in the symphony orchestra. He has most recently been hired as principal euphonium and soloist for The Great Lakes Wind Symphony, based in Rochester, NY. He serves as Music Director for Valley United Presbyterian Church in Waverly, NY where he serves as organist and is also Assistant Director of the Repasz band in Williamsport. He is employed by Robert M. Sides Music Center.
Mr. Lentz will be accompanied on piano by Kristen Ivers who earned her bachelor's degree from Bethany College in Lindsborg, Kansas and currently serves as accompanist for Lycoming College vocal students and instructors. She is president of the Williamsport Music Club.
Sunday, February 26 at 2:00 pm, Phil Maue will perform an energetic program on Great Island Presbyterian Church's digital organ, an instrument that he helped to install. Phil received his degrees from Westminster Choir College, Princeton, New Jersey, where he majored in organ. While there, he was the accompanist and manager of the Westminster Choir. He has been the organist and director of music for several churches throughout his career and has served as an organ consultant for many digital and pipe organ installations. His program will include works by Barber, Bach, Rimsky-Korsakov, among others.
"One day last winter, Phil was performing some routine checks on our church organ, when I noticed his prowess on the instrument. It was fortunate for the series that he consented, on the spot, to perform for us", said Mrs. Frank.
Harpist, Jaime Castillo will play the final recital of 2017 on Sunday, March 5th at 2:00 pm. He has delighted New York City audiences for over thirty years as a soloist, musical ensemble musician, master teacher, and arranger.  Born in Bogotá, Colombia, he began his study of the Colombian harp with master harpist Susan Jolles of the New York Metropolitan Opera Orchestra. Over the years, he has appeared at a numerous world renowned venues such as CAMI Hall, The Waldorf Astoria, Univision Spanish Television Network, and Carnegie Hall. Currently, Mr. Castillo enjoys performing at various events and provides musical workshops within the tri-state area.
The Friends of the Pipes is dedicated to securing adequate funds to reconnect the historic pipe organ for use in the worship service and other events at Great Island Presbyterian Church. All proceeds of the recital series benefit that mission.
Those interested in attending the concerts may purchase tickets for the complete series for $48.00. Individual tickets may be purchased for $15.00 per concert, $5.00 for students. Mail requests to: Friends of the Pipes at Great Island, P.O. Box 434, Lock Haven, PA 17745 or by calling 570-748-2810. Season tickets will be held at the door. Tickets may also be purchased at the door.