Boys in Blue Need Two More Wins for Trip to LLWS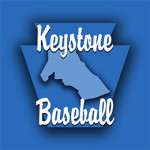 BRISTOL, CONN. – The Keystone Little League team is half way there.
Pushed into the elimination bracket earlier this week, Keystone responded Thursday night with a 9-5 win over Delaware champion Milton. The victory put Keystone in the Friday night elimination bracket final with Capitol City of Washington, a 7-2 winner over Keystone on Monday.
The boys in blue earned the D.C. rematch with another team effort over the Delaware champs.
Winning pitcher Cayde McCloskey and relievers Cy Probst and Aidan Major combined on a 7-hitter, combining for 10 strikeouts while issuing four walks.
Keystone scored in five of its six at-bats, taking advantage of early Delaware errors to plate four runs in the first two innings, the only hit in that span a single from Aaron Miller; he would also drive in a run on a groundout in the third after singles from Ryan Pentz and Nash Welch.
Kaden Falls scored a run on a wild pitch after he singled in the fifth, advancing to second on a Probst single.
Keystone would add three insurance runs in the top of the sixth, the big blow a 2-run homer from Falls following a McCloskey double.
Falls ended with a single and homer. Probst two singles, McCloskey a double and singles from Pentz, Welch and Miller.
A win over CC Friday will put Keystone in the Mid-Atlantic championship Saturday against 3-0 Maine-Endwell of New York, game time 7 P.m.
| | | | | | | | | | |
| --- | --- | --- | --- | --- | --- | --- | --- | --- | --- |
| August 11, 2016 | 1 | 2 | 3 | 4 | 5 | 6 | R | H | E |
| KEYSTONE | 1 | 3 | 1 | 1 | 0 | 3 | 9 | 8 | 2 |
| DELAWARE | 1 | 0 | 3 | 0 | 0 | 1 | 5 | 7 | 4 |
This report brought to you by: