Locally Inspired Play Earns 12 Tony Nominations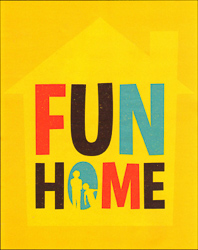 NEW YORK – The musical adaptation of Alison Bechdel's graphic memoir Fun Home has been running on Broadway for only five weeks but its stature continues to grow.
Broadway's Tony nominees were announced today and Fun Home garnered 12 nominations, tied with An American in Paris for the top number.
Fun Home dramatizes graphic cartoonist Bechdel's coming of age in Beech Creek in the 1970s and her complex relationship with her closeted father Bruce.
Fun Home nominations include best musical; best leading actor in a musical, Michael Cerveris (as Bruce Bechdel); best leading actress in a musical, Beth Malone (who portrays Alison Bechdel as an adult); best featured actress, Judy Kuhn (who portrays Alison's mother Helen) and Sydney Lucas and Emily Skeggs as Alison at different ages in her childhood; and best direction of a musical, Sam Gold.
Other nominations include best orchestrations; lighting design; scenic design; original score; and best book of a musical.
The nominations were formulated by a committee of 38 arts professionals and academics. Winners will be announced June 7 on CBS.