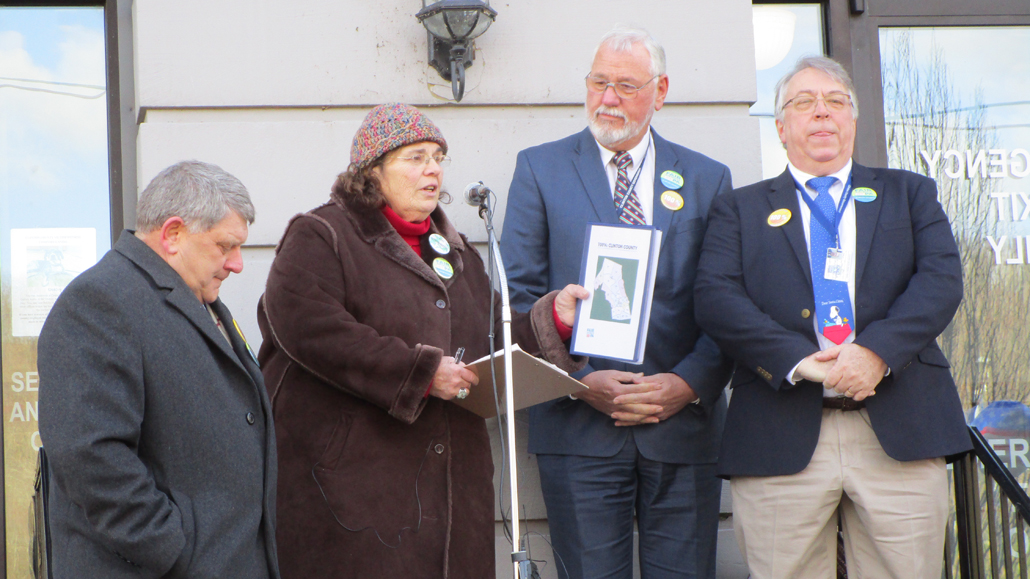 LOCK HAVEN – Cold Thursday weather did not deter the Clinton County Commissioners from joining Fair Districts PA on the courthouse steps to honor their efforts to end legislative gerrymandering.
Fair Districts county coordinator Rose Reeder told an audience of supporters they are a piece of Clinton County history where all 29 county municipalities and the commissioners have passed resolutions against gerrymandering (the practice of a governing party gaining unfair political advantage by manipulating electoral district boundaries).
Clinton County becomes the first county in the state to achieve the distinction and as commissioner Jeff Snyder noted, it was not always easy, stating the Fair Districts volunteers had to talk to some elected officials more than once to convince them of the worthiness of their cause. Snyder and fellow commissioners Pete Smeltz and Paul Conklin all voiced strong support for the effort.
Reeder presented the commissioners with a bound copy of the approved resolutions. She noted that former President Ronald Reagan had called gerrymandering "a national disgrace." Janaan Maggs, legislative aide for state Rep. Mike Hanna (D-Clinton County) read a proclamation from Hanna that said Pennsylvania is one of the most gerrymandered states in the country; he lauded local governments for putting politics aside on the redistricting issue.
Two bills are currently before the PA General Assembly, Senate Bill 22 and House Bill 722; they call for amending the state constitution to put the redistricting power in the hands of an independent citizens commission. The bills have bipartisan support of 112 cosponsors.
Reeder had said earlier the Clinton County resolutions may go a long way in convincing State Committee chairmen to bring these bills out of the State Government Committee to the floor for a vote. Currently, more than 150 municipalities and 13 counties have passed similar resolutions with close to 200 in progress across the Commonwealth.
The Thursday event attracted area television stations and NPR, in addition to local media.
Video Report