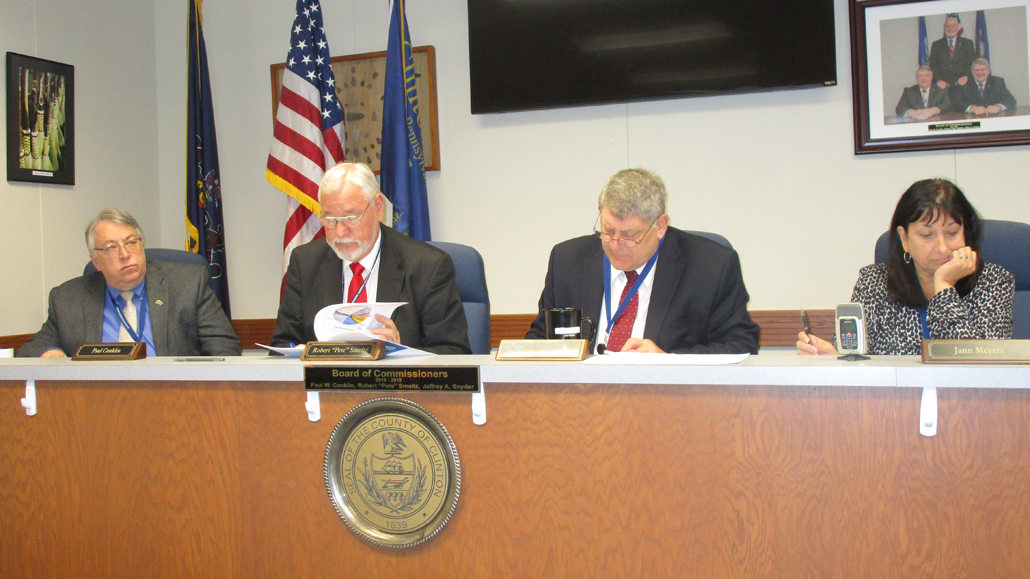 LOCK HAVEN – The Clinton County Commissioners unveiled a preliminary 2018 budget at their meeting Thursday morning. It calls for no increase in taxes next year but will tap the county's reserve fund for $500,000 to balance the $38.623 million document.
All three commissioners indicated they are in accord with the proposal at this point but said there could be changes before a formal vote on Dec. 21. The new budget will be posted on the county website, board chairman Pete Smeltz said, and work sessions on the document will be held the next two Mondays.
Commissioners Jeff Snyder and Paul Conklin both thanked county department heads and row officers for their work in controlling expenses in the new year, but Snyder noted some of them "are not going to be happy" as the commissioners did not fund some of their personnel and capital requests.
This year's budget amounts to $42.4 million. The drop to $38.623 million next year comes from, the commissioners said, a smaller amount needed from an existing bond issue in 2018.
An unknown at this point is the financial impact of anticipated new labor contracts with some 130 county employees. Current pacts are to expire at the end of this year with Council 86 of the American Federal, State, County and Municipal Employees (AFSCME). These include court-related employees, correctional officers, cooks and maintenance workers at the county correctional facility and deputy sheriffs.
Chief clerk Jann Meyers said the county met with AFSCME representatives yesterday as talks continue. Smeltz said he is "hopeful" a labor agreement can be reached by the end of this year.