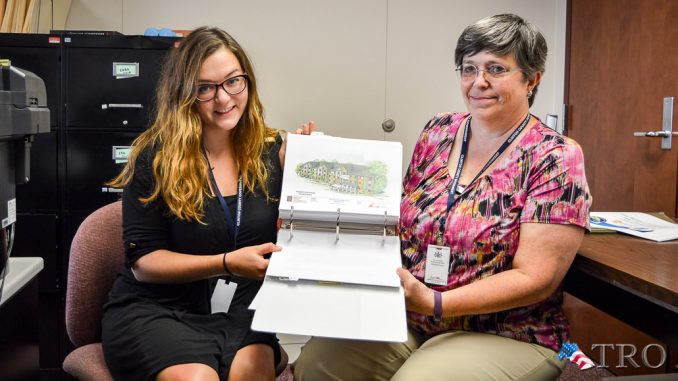 By LaKeshia Knarr
LOCK HAVEN – From senior housing complexes to recreational infrastructure studies and public transportation efforts, various projects are underway at the Clinton County Planning Department despite some staff changes, administrators recently told therecord-online.com.
Katie de Silva, former county grants administrator, took over as county planner July 3 following the retirement of longtime planner Tim Holladay. Leah Mothersbaugh, the county's new grants administrator, started her position in the three-person department the same day.
The women are excited about their new roles and spoke of their goals, gave updates on projects underway, and provided examples of how the state budget impasse has become an obstacle for county initiatives.
Mothersbaugh, a 2016 Penn State University graduate, earned her Bachelor of Science degree in Community, Environment and Development from the Schreyer Honor College. In addition, she holds Bachelor of Arts degrees in Spanish and International Studies. Her thesis looked at revitalization in rural America.
A Penns Valley native, Mothersbaugh served as a development intern for the Penns Valley Conservation Association, helping to design a long-term fundraising strategy for the organization. She is now looking forward to bringing her passion for community development to Clinton County.
"I was curious about how community and economic development work and the role local government plays," Mothersbaugh said. "It's cool to be working on projects that have a direct impact, whether it's helping homeless populations or working on different infrastructure projects."
de Silva noted that Mothersbaugh's passion for development played a large role in her selection for the job. "She was very enthusiastic about community planning and development," de Silva said. "I knew this position would take a huge amount of energy and diligence."
Mothersbaugh is currently in the process of working on three grants for the county and its partners. She explained the county has a three-year community development plan that is updated annually and helps address community needs.  Working with partner organizations and communities, applications are developed for projects that address those needs, she said.
Applications the county is currently working on include: an Emergency Solutions Grant from the PA Department of Community and Economic Development (DCED) for rapid re-housing services for homeless populations at the Life Center and Merit House; a Pennsylvania Housing Affordability and Rehabilitation Enhancement Fund (PHARE) grant for rental assistance; and a Community Development Block Grant (CDBG) for funding to acquire land to construct a senior housing complex dubbed "Susquehannock Heights" in Flemington.
de Silva also noted she recently assisted with the submission of a Penn DOT grant that would fund the conversion of an old train bridge spanning the Susquehanna River and connecting Wayne and Pine Creek townships to a bicycle and pedestrian bridge for the Clinton County Rail Trail project.
Mothersbaugh said she has already seen how the state budget process can impact county services, calling it "a challenge." She noted the state threatened to take away several grant funding sources, including those offered by PHARE and the Pennsylvania Historical and Museum Commission, which could have jeopardized county projects.
Pointing to a prime example, de Silva said the county's recent progress garnering routine bus service from Lock Haven to Jersey Shore and Williamsport is in limbo due to the state budget impasse. Although River Valley Transit purchased the buses, hired the required staff, and was to begin offering the service over a week ago, the route's start date has been postponed, she said.
de Silva served as county grants administrator for nearly five years before taking on additional duties as assistant planner last fall. "Tim had me start doing a lot of his duties back in October because there was a lot to learn," de Silva said, calling the shadowing experience "well worth it."
Although she continues to assist with grants when needed, there are many new components to her day-to-day responsibilities. "I love it. It's different in just about every way," she said.
In addition to being in charge of subdivisions and land development reviews, de Silva serves as the county zoning officer and coordinates activities of the Planning Commission.
de Silva is currently researching best practices and preparing to update to the Subdivision and Land Development Ordinance, which covers 15 municipalities and hasn't been updated since 1973, she said.
"The Planning director also has a seat on a lot of local committees," de Silva said, listing off the Clinton County Economic Partnership, SEDA-COG, the local Emergency Planning Committee, the SEDA-COG Natural Gas Cooperative, and the Pennsylvania Wilds Planning Team as a handful. "That's teaching me a lot… I love being involved in these regional organizations because I learn about their work, how Clinton County can be a part of it and I then report back to the commissioners."
The planner said she continues to seek ways to develop her skills for the new role. She recently participated in a Flood Plan Administrators Conference and is taking a series of classroom training courses offered by the PA Municipal Planning Education Institute (PMPEI). The County Commissioners Association of Pennsylvania offers conferences de Silva hopes to take part in as well.
As for her goals in the new position, de Silva hopes to better connect with the communities in the county.
"I'm a big communicator… The Planning Department needs better communication with the municipalities," she said. "I'm looking at formulating better ways of communication between the county and those served."