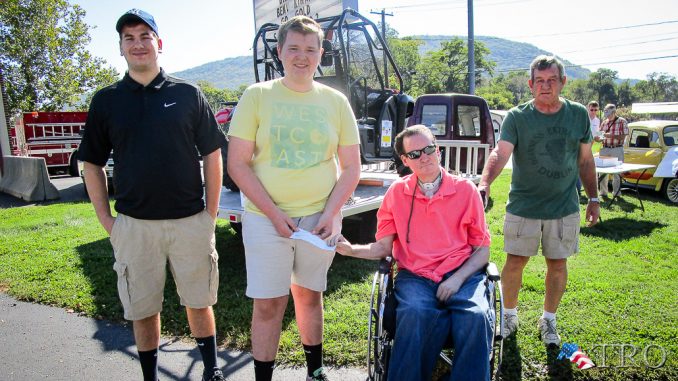 MILL HALL – Curtis Stover of Beech Creek had just finished a successful season as the heavyweight wrestler for the Central Mountain Junior High team last winter. Compiling a 30-5 mark as a ninth grader, Stover was competing in a post-season tournament last spring when he experienced headaches.
The headaches led to an examination and doctors discovered a brain tumor and stage three brain cancer. Stover immediately underwent surgery April 15 and then had to undergo 33 days of radiation therapy, five days a week. Today he is cancer-free and a tenth grader at Central Mountain. He said he is hopeful he'll get doctors' clearance to resume wrestling in the upcoming season but his mother Jody was a little more cautious for the short term. At this point he has no side effects, says he "feels pretty good" and undergoes a checkup every three months.
Asked about his experience of the last six months, Stover said, "Don't take life for granted." Mrs. Stover said the family could not thank the community enough for its prayers and support.
Stover was present at the Mill Hall Fire Company Saturday as the Kiwanis Club of Bald Eagle & Nittany Valleys held its second annual Go Gold event, a fundraiser for local childhood cancer awareness groups. Proceeds this year go to the Bestwick Foundation and ThinkBIG, organizations which help families with expenses for a child receiving treatment.
The Bestwick Foundation presented the Stover family a check to assist them. Making the presentation was Justin Kline, former mayor of Beech Creek and, as a recovering cancer victim, a beneficiary of Bestwick assistance a few years ago. Also participating were Derek Horton, a senior at Central Mountain who is assisting Bestwick as his senior project and Justin's father Rod Kline.
Bestwick official Don Leitzell said the foundation has been operating for 12 years in Clinton and Centre Counties and Stover is the fourth recipient locally. He said they learned of Stover's plight through his church and said the foundation will stay in touch with the Stovers, calling the effort "neighbors helping neighbors."
The next Bestwick fundraiser will be the organization's fourth annual car raffle. A car show and drawing is scheduled for Saturday, Oct. 14 at the Central Pennsylvania Auto Auction near Mackeyville.