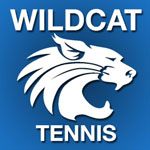 BALD EAGLE TOWNSHIP – The Central Mountain air's tennis squad was on a roll until they met up with the Lady Mountain Lions from Altoona tonight fall to the vitals 4-1. The Lady Wildcats move to 3-2 on the season with the non-conference loss to Altoona.
Altoona's Jess Stevens defeated CM's Jolee McCluskey, 6-0, 6-1 at No. 1 singles. In No. 2 singles action, Lady 'Cat, Kendall McCluskey picked up the only Central Mountain win when she retired Altoona's Maura Skelley, 1-6, 5-4. Altoona's Lindsey Hollinan took care of CM's Katherine Strouse, 6-0, 6-3 at No. 3 singles.
Altoona swept the doubles events with Kayley Burke and Alese Rinker defeating Central Mountain's Natalie Brown and Zoe Horton, 6-2, 6-0 at No. 1 doubles then at No. 2 doubles, the Lady Mountain Lion duo of Zoe Wilson and Jasmine VonColln got past CM's Olivia Anastos/Carolina Carpenetti, 6-0, 6-2.
Next up for Central Mountain is a home match Tuesday, Sept. 5 with downriver rival, Jersey Shore.
ALTOONA 4 – CENTRAL MOUNTAIN 1
1 Jess Stevens A def Jolee McCluskey 6-0 6-1
2 Kendall McCluskey CM def Maura Skelley 1-6 5-4 retired
3 Lindsey Hollinan Alt def Katherine Strouse 6-0 6-3
1D Kayley Burke/Alese Rinker Alt def Natalie Brown/Zoe Horton 6-2 6-0
2D Zoe Wilson/Jasmine VonColln Alt def Olivia Anastos/Carolina Carpenetti 6-0 6-2