This slideshow requires JavaScript.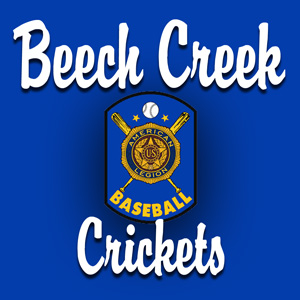 EPHRATA — It was a back-and-forth game but Swoyersville bunched together four singles to produce three runs in the top of the ninth inning, good enough for a 7-4 win over the Beech Creek American Legion team at the state tourney on Thursday. The loss eliminated the Crickets with a 1-2 mark after winning league and regional titles earlier in July.
The game was scoreless through three innings; Swoyersville scored a solo run in the top of the fourth but Beech Creek answered with two in the bottom half on a walk to Brandon Miller, a single from Toner Corl, a sacrifice fly from Talon Falls and an RBI single from Wyatt Koch for a 2-1 lead.
Swoyersville added another run in the top of the fifth and took a 4-2 lead in the top of the sixth on three singles and a hit batter. The game stayed 4-2 into the bottom of the eighth when Beech Creek pulled into a 4-4 tie: Toner Corl singled, advanced on a wild pitch and scored on a single from Falls. Asher Corl sacrificed Falls to second and Falls scored on an RBI single from Koch.
But Swoyersville strung together its four singles off reliever Tanner Spangler in the top of the ninth for its decisive three runs.
Toner Corl, Spangler and A-J Smith saw time on the mound for the Crickets; Swoyersville piled up 14 hits, 13 of them singles on the way to the win. Two Swoyersville pitchers held Beech Creek to 8 hits, led by Falls who finished with a double, a single, a sacrifice fly and two runs batted in. Koch finished with two singles, a walk and two RBIs and Toner Corl had two singles and two runs scored. Other hits, both singles, came from Miller and Evan Prough.
| | | | | | | | | | | | | |
| --- | --- | --- | --- | --- | --- | --- | --- | --- | --- | --- | --- | --- |
| July 27, 2017 | 1 | 2 | 3 | 4 | 5 | 6 | 7 | 8 | 9 | R | H | E |
| SWOYERSVILLE | 0 | 0 | 0 | 1 | 1 | 2 | 0 | 0 | 3 | 7 | 14 | 0 |
| BEECH CREEK | 0 | 0 | 0 | 2 | 0 | 0 | 0 | 2 | 0 | 4 | 8 | 2 |