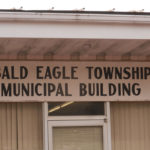 LOCK HAVEN – Clinton County President Judge Craig P. Miller interviewed 12 Bald Eagle Township residents this week who had come forward in hopes of being appointed to one of two empty seats on the Board of Supervisors.
As promised, Judge Miller issued his decision Friday naming Gerard Banfill and Clarence "Tuff" Rhine as the newly appointed Supervisors.
"I was pleasantly surprised by the number and quality of those who applied" stated Judge Miller, "It was a very difficult decision and not one taken lightly."
These appointments are in effect only through the end of this election cycle. Should Banfill or Rhine wish to remain in their appointed seats they will need to stand for election this November. Should they be defeated or choose not to run their term would end on the first Monday of January 2018.