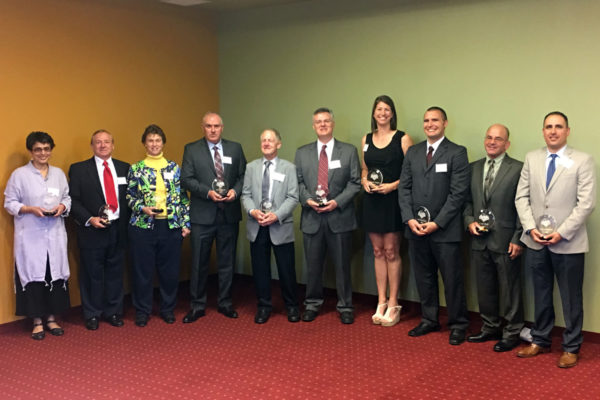 LOCK HAVEN – Saturday saw the enshrinement of the 2017 Lock Haven University Athletics Hall of Fame Class.
The 11 individuals that made up the 2017 class were honored at the LHU Athletics Hall of Fame Committee's annual induction ceremony, held at LHU's Durrwachter Alumni Conference Center, presented by PSECU.
This year's 11-member class stretched across eight different sports and represented some of the finest to ever compete and coach for the university.
The 2017 Hall of Fame class – originally announced in April – is made up of Fran Cornelius, Sherry (Derr) Swope, Courtney Hughes, Sara McMann, Ken Melchior, Bob Peck, Carl Poff, Fred Powell, Nick Slotterback, Phil Stephenson and Sharon Taylor.
This group represents LHU's third class to be inducted after the Charter Hall of Fame Class was announced in the spring of 2015.
The LHU Athletics Hall of Fame Committee's mission is simple: The Lock Haven University Athletics Hall of Fame will include and honor the school's finest athletes, teams, coaches, athletic trainers, administrators and supporters; it will also include alumni who achieved greatness in sports after leaving LHU. It represenst men and women in all sports across the entire history of the school, from its founding in 1870 to the present.
The 2017 LHU Athletics Hall of Fame Class:
Fran Cornelius (athlete, coach)
Cornelius (1961) was a standout defensive guard for the football team. In 1960, he was named to NAIA All-American First Team and earned a spot on the AP All-State Team, a team comprised of Pennsylvania's Division I, II and III players. Cornelius was also a two-time All-Pennsylvania Conference player. He also made a major impact on the LHU football program as a longtime assistant coach. For his efforts, Cornelius was inducted into the Lock Haven Football Hall of Fame in the 2010 Inaugural Class.
Sherry (Derr) Swope (athlete)
Swope (1985), the first female athlete in LHU history to receive an athletic scholarship was a two-time All-American in field hockey. Her 74 career goals and 153 career points still rank fourth and fifth, respectively on LHU's all-time list. Swope was a DII All-American in 1983 and a DI All-American in 1984. During her career, Lock Haven went 63-9-3 on the way to one national-runner up finish and two national championships.
Courtney Hughes (athlete)
Hughes (2007) was a standout two-sport athlete, who excelled in field hockey and softball. She led LHU to the 2006 NCAA DII national championship in softball. Hughes was an All-American in both sports, including a First Team softball selection in 2006 and a Second Team selection in field hockey in 2003. She started every game of her career at shortstop and during her senior year hit .410 with 19 home runs and 66 RBIs on the way to the national title. Her 19 home runs and 66 RBIs are still the single-season school records. Hughes also started every game of her field hockey career (84).
Sara McMann (athlete)
McMann (2003) soared to great heights in the sport of wrestling after her days on the LHU wrestling team. In 2004, she won an Olympic silver medal in freestyle, becoming the first American woman to do so. McMann claimed bronze at the 2007 World Championships and won gold at the 2007 Pan American Games, among many other international successes and medals. Since 2010, she has been a top-ranked professional MMA fighter. She won the first seven MMA pro fights of her career and has over 10 professional victories.
Ken Melchior (athlete)
Melchior (1968), a standout wrestler, won the NCAA Division I national title at 115 pounds in 1968. He was also a three-time NAIA national champion and was named the 1969 NAIA Tournament Most Outstanding Wrestler. Melchior went 98-6 during his Bald Eagle career and added three PSAC titles to his long list of accolades. He qualified for the U.S. Olympic Team Trials in 1968 and 1972.
Bob Peck (athlete)
Peck, "A Golden Era Inductee (Pre 1950)," played football, basketball and baseball at the Central State Normal School in 1907 and '08. After completing his "college prep" track at the Normal School Peck enrolled at the University of Pittsburgh where he played for the legendary coach, Glenn "Pop" Warner. Peck went on to become a three-time All-American center at Pitt, and as a co-captain, he led Pittsburgh to national championships in 1915 and '16. Warner later named Peck to his all-time All-Star team, along with legends Jim Thorpe and Ernie Nevers.
Carl Poff (coach)
As head coach of the LHU wrestling team, Poff took the team to new heights. The winningest wrestling coach in school history, Poff's teams went 167-62-3 and amassed a winning percentage of .720. His 2000-01 team went 21-2 and his 1996-97 team finished fifth at the NCAA Division I Championship – the highest finish in school history – behind five individual All-American performances. Poff's teams won four team PSAC titles and the school's only EWL title in 1997. He led 13 student-athletes to All-American status and coached 80 Division I national qualifiers. As a student-athlete, Poff was a two-time NCAA qualifier at nearby Bloomsburg University (1979).
Fred Powell (athlete, coach)
Powell (1964), a standout wrestler, won the 123-pound national title at the 1964 NCAA Division I national championships. Also in 1964, he won a NAIA national title and was named the NAIA Tournament's Most Outstanding Wrestler. Powell was a two-time NAIA national runner-up and four-time PSAC Champion. In 1966, he took fifth at the World Championships, competing at 125.5 pounds. Powell went on to become a very successful head coach at Slippery Rock University, where he won over 200 duals and coached 12 All-Americans.
Nick Slotterback (athlete)
Slotterback (2004) was a two-time NCAA Division II national champion in the javelin throw, claiming titles in 2003 and '04. In all, he was a three-time All-American in the event after one runner-up finish ('02). Slotterback was the PSAC champion in javelin in 2003 and '04 and was named the 2004 PSAC Athlete of the Year. His LHU-best throw of 220-05 is still the school record.
Phil Stephenson (athlete, coach)
Stephenson (1987) was a standout men's soccer player at LHU before embarking on a remarkable college coaching career. As a player at Lock Haven, Stephenson was a First Team All-American in 1986, a four-time All-Region selection, a four-time All-Conference pick and in 1986, he was named the PSAC West Player of the Year. Stephenson also served as an assistant coach at LHU, before his time at Division I Texas A&M, where he now serves as Associate Head Coach and has helped build the program into a national power. In 2014, Stephenson was named the DI South Region Coach of the Year and in 2003 he was named the DI National Assistant Coach of the Year. Under Stephenson's guidance, his A&M teams have made 18 NCAA tournament appearances in 18 seasons.
Sharon Taylor (athlete, coach)
Taylor (1966) was a multi-sport student-athlete and multi-sport coach at LHU. She played field hockey and basketball, before coaching tennis, basketball, lacrosse and field hockey. Taylor is a former member of the U.S. Olympic Committee and past president of USA Field Hockey. As a coach at Lock Haven, Taylor won seven national championships, including one in lacrosse and six in field hockey. The national title in lacrosse is the school's only in the sport after the Bald Eagles won the AIAW DII title in 1979. The sport of field hockey is where she left her biggest mark at LHU, as her Lock Haven teams went 333-96-27 and her 340 total collegiate career field hockey wins still rank No. 25 all-time in NCAA history. Taylor-led LHU field hockey teams won national titles in 1981, '82, '89, '92, '94 and '95.
The LHU Athletics Hall of Fame Committee consists of Lock Haven University's Athletic Director, Faculty Athletics Representative, Sports Information Director, a representative from the LHU Foundation, a community representative, two LHU alums, and a member "at large." This group independently reviews the nominations received from any source, except self-nominations. Once an athlete, coach, trainer, manager, administrator, or significant supporter is nominated, that nominee remains on the roster until selected (resubmissions are not required). The committee narrows the field through a voting process which uses a defined scoring system to determine each year's Hall of Fame Class.