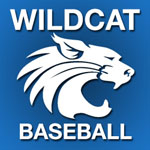 ALTOONA — For seven-plus innings the Central Mountain baseball team went nose-to-nose with Hollidaysburg, the top-ranked team in Pennsylvania according to the MaxPreps rating service. But in the bottom of the eighth with two outs, Golden Tiger first baseman Tyler Treese pounded a mammoth homerun down the right field line, resulting in two runs and a 2-0 win in the first-ever District 6 Class 5A championship game.
Saturday's loss was a painful one for the Wildcats who finished the year at 13-8. They had scoring opportunities throughout the game, leaving 12 runners stranded including five who reached third base. But CM batters could not come up with a clutch hit, held to seven hits by two Hollidaysburg pitchers.
Wildcat starter Ethan Watkins was brilliant through regulation, holding the now 17-1 Tigers to five hits. But the game and the Wildcat season turned on one swing of the bat in the bottom of the eighth in what was a scoreless game to that point. With one out Hollidaysburg's John Servello hit a single to center. Tiger cleanup hitter Lennox Pugh was retired when CM catcher Asher Corl made a great catch on a foul pop near the home team's dugout. But with two outs Treese got a pitch he liked and drove it well over the right field fence about 10 feet air, ending the game with a district title for Hollidaysburg and another championship game defeat for Central Mountain.
The Wildcats backed Watkins with great defense, playing error-free ball and turning two double-plays. But lack of a clutch hit was too much to overcome; there also were a couple shots just foul down the third base that could have turned the game in the Wildcats' favor in regulation.
Sophomore Sam Servello, who on occasion hit 87 mph on the radar gun, combined with junior reliever Brendan Hileman to make the clutch pitches when needed. Hileman was the winner with three innings of shutout relief work. He has yet to be scored on this year.
Watkins was outstanding in his final Wildcat appearance, going seven and two-third innings, giving up eight hits, striking out four and walking three.
Juniors Corl and Austyn Carson led the CM offense, Corl 2-for-2 with two singles, walking once and hit once; Carson 2-for-4 with two singles. Landon Breon contributed a double and Brandon Miller and Troy Gardner each had singles.
May 27, 2017
1
2
3
4
5
6
7
R
H
E
CENTRAL MOUNTAIN
0
0
0
0
0
0
0
0
0
7
0
HOLLIDAYSBURG
0
0
0
0
0
0
0
2
2
8
0