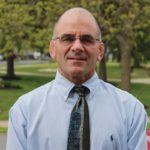 LOCK HAVEN – Retired Lock Haven University wrestling coach Carl Poff has been named Executive Director of the Lock Haven University Foundation. The LHUF is the Lock Haven University affiliate charged with developing and maintaining strong relationships with LHU alumni and providing revenue through fundraising activities. Poff had recently retired as a sports studies professor at LHU. His hiring ends an extensive school search for a new foundation director.
"It's all about relationships. A successful fundraising and alumni operation begins and ends with strong and strategic relationships; and Carl Poff's strength is building relationships," said Dr. Michael Fiorentino, Jr., Lock Haven University President.
Poff has been part of the Lock Haven University family for more than a quarter of a century. He began his tenure at LHU in 1990 as the head coach of the LHU wrestling team. In that role, Lock Haven University became a powerhouse program and Carl became the winningest wrestling coach in school history. Poff's LHU winning percentage topped .726. His 2000-01 team went 21-2 and his 1996-97 team finished fifth at the NCAA Division I Championship – the highest finish in school history – behind five individual All-American performances. Poff's teams won four PSAC titles and the school's only EWL championship in 1997. His coaching yielded 80 National Qualifiers, 14 All-Americans, two Individual National Champions, 20 Eastern Wrestling League Champions, and 30 PSAC Champions.
"I am both humbled and excited about accepting this opportunity. As the Executive Director of the Lock Haven University Foundation, I plan to build a strong team, mobilize and energize our alumni, and raise valuable funds for the students of Lock Haven University. Our number one priority is to support the efforts of LHU and its students," said Poff.