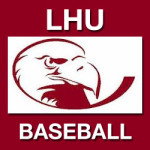 JOHNSTOWN – Four of the Bald Eagles nine hits were home runs and they rode a strong outing from starting pitcher Mike Anthony (Audubon, Pa./North Hampton Community College) as the Lock Haven University baseball team (32-16) opened the 2017 Pennsylvania State Athletic Conference (PSAC) Tournament with an 8-5 win over IUP (22-24) on Wednesday.
Justin Sleigh (DuBois, Pa./DuBois), Kolby DeHaas (Coeur d'Alene, Idaho/Wenatchee Valley Community College), Sam Kysor (Port Allegany, Pa./USC Upstate) and Matt Lahn (Georgetown, ONT./Erie Community College) all homered as the Bald Eagles flexed their offensive muscle in their return to the PSAC Tournament.
Wednesday marked LHU's return to the PSAC Tournament as the Bald Eagles played their first postseason tournament game since 2009. The win was Lock Haven's first since the 2002 tournament.
Thursday the Bald Eagles will play the winner of the Seton Hill – West Chester game.
Anthony got the nod on the mound and the senior right-hander was impressive on the way to a workmanlike-win. He recorded eight strikeouts over eight innings.
Lahn had LHU's big bat and finished 3 for 4 at the plate.
IUP took a 1-0 lead in the bottom of the first, but the Bald Eagle bats quickly went to work.
Sleigh led off the second inning with a solo home run. The homer was the first of four in the game and tied the things at 1-1.
In the third, DeHaas blasted a ball over the left-field fence and the three-run home run gave Lock Haven a 4-1 lead.
Kysor hit a solo homer to right in the sixth, which stretched the LHU lead to 6-2.
Lahn added to the long-ball parade and his two-run home run in the seventh pushed The Haven lead to 8-3.
Despite a pair of runs from IUP in the bottom of the ninth, the four LHU home runs proved to be the biggest difference in the outcome and helped the Bald Eagles cement the tournament-opening win.