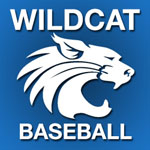 MILL HALL — In the end the visiting Mifflin County Huskies made the plays they needed to while the home team Central Mountain Wildcats did not, the result a 3-2 nine-inning victory for the visitors.
Both teams received exceptional pitching on another cold, windy Monday at Mill Hall Community Park. And for five innings it looked like an early 2-0 lead would be enough for a Central Mountain win. But the top of the sixth saw Mifflin County take advantage of a 2-out walk and single, followed by a 2-RBI double from cleanup hitter Isaac McClay to tie the game at 2-2.
The game went into extra innings and Central Mountain had a lead-off single in the eighth but the Wildcats ran into an out on an attempted steal and the game went to the ninth. Wildcats sophomore Aaron Swartz gave up a 1-out walk to McClay. He went to second on a groundout and made a bolt for third with two outs; Wildcat catcher Asher Corl tried to gun him down but the throw went into left field and what proved to be the winning run scored after Central Mountain went down one-two-three in the bottom of the inning.
Central Mountain struggled against two Husky pitchers, starter Isaac Underhill and winning reliever Jarrod Hannon holding them to six hits and two runs. Both those runs scored in the second inning as Central Mountain took advantage of an error, a bunt single from Mahlik Houtz, an RBI groundout from Troy Gardner and a bases-loaded walk to Brandon Miller. The home team never again got a runner past second base as Mifflin County turned three infield double-plays.
Houtz and Trevor Hanna each had two singles and Corl and Landon Breon added singles. Meanwhile pitcher Tanner Spangler and relievers Ethan Watkins and Swartz held Mifflin County to three hits.
The loss ended Central Mountain's four-game winning streak and dropped the Wildcats to 9-6 on the year going into a game at Montoursville (7-4) Tuesday. Mifflin County improved to 7-9.
| | | | | | | | | | | | | |
| --- | --- | --- | --- | --- | --- | --- | --- | --- | --- | --- | --- | --- |
| May 8, 2017 | 1 | 2 | 3 | 4 | 5 | 6 | 7 | 8 | 9 | R | H | E |
| MIFFLIN COUNTY | 0 | 0 | 0 | 0 | 0 | 2 | 0 | 0 | 1 | 3 | 3 | 1 |
| HOME TEAM | 0 | 2 | 0 | 0 | 0 | 0 | 0 | 0 | 0 | 2 | 6 | 2 |