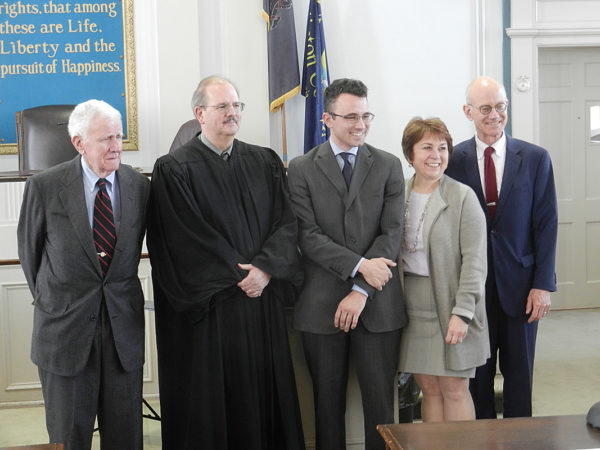 LOCK HAVEN — For what is believed just the second time in Clinton County's 180 year history, three generations of the same family have been admitted to the bar for the practice of law.
John Lugg was today sworn into the bar of the Supreme Court of Pennsylvania, the oath administered by President Judge Craig Miller in a special session of the Court of Common Pleas. The event was attended by Lugg family members and friends and representatives of the Clinton County Bar Association.
Lugg joins his father Robert Lugg and grandfather Allan Lugg as members of the local bar. Court historians say the only previous three-generation set of lawyers were T.C. Hipple, Judge Henry Hipple and Henry M. Hipple several generations ago.
Judge Miller told the assemblage that John Lugg "will be following in line with his grandfather Allan who gave me my first gift as Judge – a copy of the Constitution hoping I would follow it -and father Robert in the practice of law. Both grandfather and father are proud of you John and rightfully so."
Allan Lugg said, "I am very happy; I looked forward to this for a long time," adding, "I'm not quitting," a reference to his continued work with the family firm Lugg and Lugg in Lock Haven. Robert Lugg said he looked forward to practicing with his son, serving "the legal needs of
Clinton County citizens, our family helping yours." John Lugg said he was "excited to start practicing." He had received word last month he had successfully passed the bar exams.
Allan Lugg is a 1950 graduate of Dennison College and a 1953 graduate of Penn Law School. Robert Lugg is a 1980 graduate of Dennison and a 1984 graduate of Capital Law School while John Lugg graduated from Juniata College in 2013 and Penn State School of Law in 2016.
Allan and Robert Lugg are partners in the family law firm while John joins as an associate. The elder Lugg first came to Lock Haven to begin his practice in 1955 after a stint in the service; Robert Lugg joined the practice in 1985.