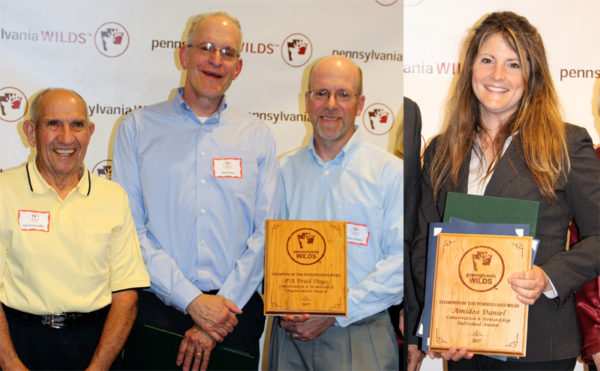 DuBOIS – Last night, an individual and an organization from Clinton County were honored for their conservation and stewardship efforts during the 11th annual PA Wilds Champion Awards Dinner held at the DuBois Country Club.
Amidea Daniel earned the Conservation Stewardship Award (Individual) and the PA Trail Dogs received the Conservation Stewardship Award (Group), two of 11 awards distributed to organizations and individuals throughout the 12.5-county region known as the Pennsylvania Wilds.
Clinton County commissioners Pete Smeltz, Jeff Snyder and Paul Conklin attended the event, as well as Clinton County Economic Partnership Chamber/Tourism Director Julie Brennan and tourism representatives Rich Wykoff and Bonnie Hannis, former county grants administrator and current assistant planner Kate de Silva, and Ann Tarantella and Kari Kepler of Renovo Borough Council.
Tataboline Enos, executive director of PA Wilds Center for Entrepreneurship, Inc., a nonprofit working to integrate conservation and economic development within in the region, thanked guests for attending and spoke of the recent integrations taking place that formed the nonprofit. She said the Planning Team, Marketing Team and Board of Directors are all making plans for branding, marketing and developing the region and its entrepreneurs and natural assets that will last into the future.
Holly Komonczi, chair of the 2017 Champion Awards Selection Committee and executive director of Lumber Heritage Region, handed out the awards and described the distinguishing qualities of the individuals and organizations being honored. Each recipient received a "Champion of the Pennsylvania Wilds" wooden plaque, featuring the recognizable Pennsylvania Wilds elk logo.
Daniel, a Clinton County native who has worked for the PA Fish and Boat Commission since 2008 as an outreach/education specialist, was the statewide coordinator for the award-winning Trout in the Classroom program and now serves as the Commission's Youth and Women's Program Coordinator.. She told the crowd of over 200 attendees about how Trout in the Classroom exposes students to watershed conservation and involves raising brook trout in a classroom aquarium and releasing them into local streams. The program has been offered in over 280 classrooms and has reached tens of thousands of students across the commonwealth, she said.
Accepting the award on behalf of the PA Trail Dogs were Stacey Hibbler, Bob Farley and Carl Undercofler, who spoke of their involvement with the organization. Group leader Craig Fleming was out of town for work and unable to attend.  Members and volunteers of PA Trail Dogs have maintained remote hiking trails in the PA Wilds region for the last 10 years while coordinating trail events, including the Hyner View Trail Challenge, Prowl the Sproul 10K, Eastern States 100, Hyner Half, and Rothrock Challenge, and ultimately introducing thousands of outdoor enthusiasts to the PA Wilds.
The theme of this year's dinner, "Celebrating Community Character Stewardship," was evident throughout the event – with the PA Wilds Center for Entrepreneurship, Inc., unveiling its second edition of the award-winning PA Wilds Design Guide for Community Character Stewardship and Ed McMahon featured as the keynote speaker.
The digital Design Guide, developed to help communities across the region preserve their community character as they experience economic growth and development, includes over 300 pages design examples from around the region from over the last decade that preserve community character and heritage. The first edition was released in 2007.
McMahon is a nationally known leading authority on topics related to sustainable development, land conservation, smart growth, and historic preservation. He currently holds the Charles Fraser Chair for Sustainable Development and is a Senior Resident Fellow at the Urban Land Institute in Washington, D.C. His presentation focused largely on the concept that communities can take part in planning for changes and help shape the future, or else unplanned changes will shape the community. He showed various examples of multi-national corporations altering their building aesthetics in an effort to meet community demands relating to their own character, such as a McDonald's located in a Cape Cod style structure in a New England town. He also spoke of the difference between costs and value, and which is more important over the long term for communities.
PA Department of Conservation and Natural Resources Secretary Cindy Adams Dunn and Deputy Secretary of the Office of Business Financing at the Department of Community and Economic Development Scott Dunkleberger were in attendance, among other state officials and representatives.
Other award recipients this year include:
Business of the Year Award – La Belle Auberge Bed & Breakfast and Emerge Healing Arts & Spa of Wellsboro, PA (Tioga County)
Great Places Award – Cherry Springs State Park of Coudersport, PA (Potter County)
Great Design Award – Matt Schauer of Williamsport, PA (Lycoming County)
Artisan of the Year Award – Perry Winkler of DuBois, PA (Clearfield County)
Inspiring Youth Award – Nate (Nathan) Wilson of Kane, PA (McKean County)
Outstanding Leader Award – Jenks Township Supervisors of Marienville, PA (Forest County)
Event of the Year Award – Clarion's Autumn Leaf Festival of Clarion, PA (Clarion County)
Best Brand Ambassador Award – Straub Brewery of St. Marys, PA (Elk County)
Member of the Year Award – Matt Marusiak of Ridgway (Elk County)
Komonczi encouraged attendees to submit nominations for 2018. Learn more about the Champion of the Pennsylvania Wilds Awards and the Design Guide for Community Character Stewardship at www.pawildscenter.org.
—
The PA Wilds Center promotes the region's heritage, cultural, entrepreneurial and natural assets, in an effort to attract tourists, create jobs and help sustain rural communities.  The Pennsylvania Wilds region includes the counties of Warren, Forest, Elk, Potter, McKean, Tioga, Clinton, Lycoming, Clearfield, Jefferson, Cameron, Clarion and Northern Centre.