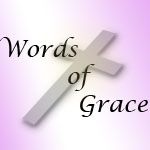 William R. Newell was a noted evangelist and Bible teacher.  One day, as he was on his way to teach a Bible class at the Moody Bible Institute in Chicago, he was meditating about how Jesus suffered for him at Calvary.
So impressed was he by these thoughts that he stepped into an empty classroom and began to write out his testimony.  The words were given to Daniel B. Towner, the music director at the institute, who then composed music for the text.
At Calvary became at that time a popular gospel song, and it remains so today.  Newell tells about all the years he spent in vanity and pride, caring not that his Lord was crucified, and knowing not that it was for him that Christ died at Calvary.
This great hymn ends with this declaration: "Oh, the mighty gulf that God did span at Calvary!" Charles Woodbridge had written that "there is a precipitous gulf of sin" that separates sinners from God.  He "has prepared a bridge which spans the frightening abyss."
At Calvary Jesus died for our sins, and was raised from the dead.  The bridge "enables the guilty sinner to start for Heaven," Woodbridge points out.
"A strong faith in a weak bridge will not bridge the gulf," wrote Paul Little, "but a weak faith in a strong bridge will get you to the other side."