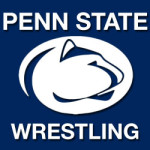 UNIVERSITY PARK – The Penn State Wrestling Club held its annual post-season Awards Luncheon on Sunday and the Nittany Lion wrestlers were honored with a bevy of post-season awards. The sold out event was held at the Penn Stater Conference Center, honoring the 2017 NCAA Champion Nittany Lion wrestlers.
Junior NCAA Champion Zain Retherford (Benton, Pa.) and sophomore NCAA Champion Bo Nickal (Allen, Texas) shared the Bill Koll Award for the most pins, each nabbing 17 falls this season. Sophomore NCAA Champion Jason Nolf (Yatesboro, Pa.) was honored with the Charlie Speidel Award for the most takedowns, notching 156. Retherford also won both the Most Team Points and Most Bonus Points awards.
Retherford, Nickal and Nolf received All-America award recognition as did freshmen NCAA Champions Vincenzo Joseph (Pittsburgh, Pa.) and NCAA Champion Mark Hall (Apple Valley, Minn.) and sophomore All-American Nick Nevills (Clovis, Calif.).
Junior Matt McCutcheon (Apollo, Pa.), a three-time NCAA qualifier, was honored with the Community Service Award. Manager Shannon Daugherty was honored with the Carl A. Winterburn Award as Manager of the Year. Retherford was awarded his previously announced Hodge Trophy at the event and Nickal was awarded his previously announced Hammer Award as well.
Penn State handed out five Academic Excellence Awards. True freshman Brien Friery (Lewisburg, Pa.) received the first-year award, posting a 3.95 grade point average. Red-shirt freshman Dominic Giannangeli (Murrysville, Pa.) grabbed the second-year honor with a 3.78 GPA. Sophomore Devon Van Cura (Washington, N.C.) posted a team-best 4.0 GPA and claimed the third-year award. Retherford won the fourth-year honor with a 3.72 GPA and senior Geno Morelli (DuBois, Pa.) won the fifth year award with a 3.95 GPA.
Penn State won its sixth NCAA national championship in the last seven years in St. Louis in March. Penn State also won the 2017 Big Ten Regular season crown and the NWCA Dual Championship Series title, going 14-0 overall with a 9-0 mark in conference action. Penn State returns nine of its starters, eight of nine NCAA qualifiers and all six of its 2017 All-Americans for next the 2017-18 season (including five NCAA Champions).