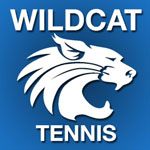 BALD EAGLE TOWNSHIP – Central Mountain notched another Pennsylvania Athletic Conference win over rival, Jersey Shore to move to 3-1 on the season in boys' tennis.
All the Wildcat wins came in straight sets for a clean sweep of the Bulldogs.
Central Mountain's Mathhew Schubach defeated Jersey Shore's Alex Trunzo 6-1, 6-1 at No. 1 Singles. At No. 2, CM's Raahi Chapla took down Niall Lanks 6-1, 6-2.. In No. 3 action, Wildcat,Matthew Marasco beat Shore's Mike Walker 6-1, 6-1.
In No. 1 doubles action Wildcat duo of Micah Brinker and Thomas Cygan defeated the Bulldog's Dylan Leitch and Logan Huling 6-4, 6-3. CM's Yash Adroja and Kaden Powers were victorious over Jersey Shore's Quinn Henry and Aaron Hennigan 6-3, 6-1.
Central Mountain will nest see action on the road at Lewisburg on Wednesday, April 5, 2017.
CENTRAL MOUNTAIN 5 JERSEY SHORE 0
1 Mathhew Schubach CM def Alex Trunzo 6-1 6-1
2 Raahi Chapla CM def Niall Lanks 6-1 6-2
3 Matthew Marasco CM def Mike Walker 6-1 6-1
1D Micah Brinker/Thomas Cygan CM def Dylan Leitch/Logan Huling 6-4 6-3
2D Yash Adroja/Kaden Powers CM def Quinn Henry/Aaron Hennigan 6-3 6-1