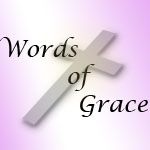 John, in Revelation 14:7, heard an angel say with a loud voice,
"Fear God, and give glory to him; for the hour of judgment has come:  and worship him that made heaven, and earth, and the sea, and the fountains of waters."
What does it mean to fear God? Is there anything in God that is to be feared?
Will Houghton writes about how he was, as a small lad in Boston, much afraid of a certain policeman.  When he would see that big, burly Irish man in his blue uniform with brass buttons, he hurried to get around the corner.  If there was no corner, he passed by him as bravely as he could.
When he was older, he came to realize that the policeman was on his side.  He had learned that, if he did break the law, then he had something to be afraid of.  It was not because of what the policeman was, but because of what he was: a law breaker.
Is there anything in God to fear? Yes, not because of what God is, but because of what we are.  We are sinners who have broken God's law.
There is one lawgiver, who is able to save and to destroy" (James 4:12). We are to "fear him who is able to destroy" (Matthew 10:28). "For the Son of man is not come to destroy men's lives, but to save them" (Luke 9:56).