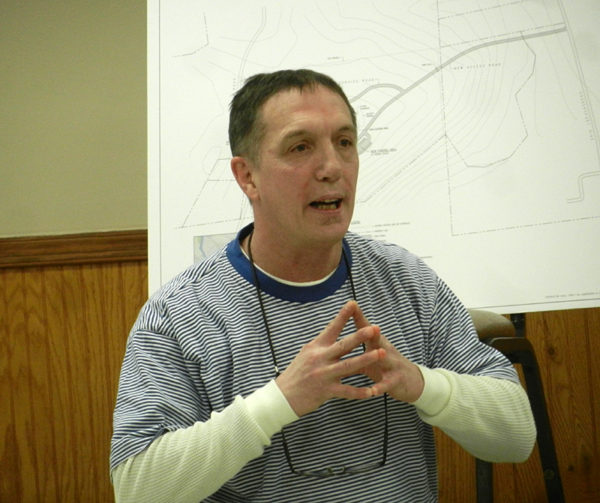 by Christopher Miller
DUNNSTOWN – It was an evening of strong opinions for and against a proposed drug and alcohol treatment facility in Woodward Township near Route 664 (Coudersport Pike). The three-hour meeting this evening did not draw a conclusion, however, and another meeting was scheduled on the matter for later this month.
Opening with remarks from Woodward Township Zoning Officer Chris Coleman, the meeting turned quickly into a lengthy question-and-answer session between local attorneys Larry Coploff and Frank Miceli who represent Bobby C. Wise, II and Woodward Township, respectively. Nearly 40 people filed into the conference room at the township's municipal building.
The 72 acres of land eyed for the facility, which is divided into 3 parcels, requires the green light from the Zoning Hearing Board for a special exception, needed in this case because the property is located in a "Low Density Residential District" and the proposed use would go beyond allowances for such a zone.
Special exception uses and structures must be approved by the township's Zoning Hearing Board, and conditional uses and structures, including public or private schools and utility supply facilities, must be approved by the supervisors, according to the ordinance. Special exception uses include group day care homes, day care centers or nursery schools; mobile homes on individual lots; group homes and institutional residences; personal care homes; and two-family dwellings.
Questions were raised this evening pertaining to everything from the number of paid staff at the proposed facility to how high fences and walls must be surrounding said facility.
When questioned by the Zoning Hearing Board, Wise, confident in his replies, said there will be a maximum of 25 residents between ages 13 and 17, segregated into male and female populations.
"The number of staff depends on how quickly rooms can be filled," explained Wise.  He also said there could be upwards of 20-30 staff members working a multitude of shifts to cover the facility's 24-hour operation. Staff needed would include a physician, nurses, counselors, cooks, administrative and most likely security personnel.
Charles Grieb, architect on the project, was questioned about road access to and from the facility which may be an issue for a proposed service/access road that could serve as a secondary or emergency entrance off Hunter Run Road.
About six residents of Hunter Hollow Road, which is privately owned and maintained, expressed strong opinions against use of the road for facility purposes, and questioned both the Zoning Hearing Board and Wise about who would maintain functionality and wear-and-tear if the road were opened for facility use.
Also strongly expressed this evening was the topic of property value.  According a study by Longwood University of Virginia, entitled Not in My Backyard: The Effect of Substance Abuse Treatment Centers on Property Values, and introduced by resident Dave Hunter, "a neighboring treatment center is associated with an 8% reduction in nearby home prices, and that this discount is magnified for treatment centers that specifically treat opiate addiction (as much as 17%)."
As well, popular concern was brought to the attention of those present pertaining to the proposed property's proximity to an elderly care facility nearby and Woodward Elementary School some 2 miles away.
A continuance was requested by Miceli for the ability to gather additional information and testimony pertaining to state regulations on treatment facilities was granted by the board. The next meeting will be held at the Dunnstown Fire Hall, 119 Woodward Ave, Lock Haven, on February 22 at 6 P.M., where it is anticipated that the board will decide the outcome of the special exception.