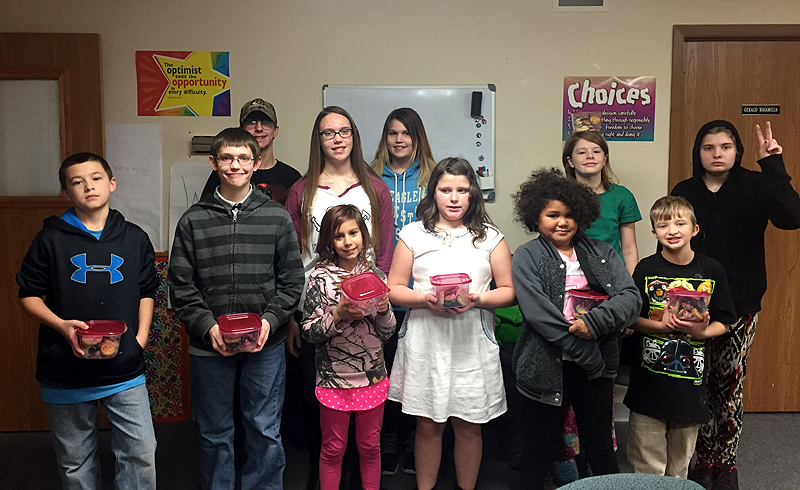 By LaKeshia Knarr
LOCK HAVEN – Looking for a New Year's resolution or a way to positively impact your community? Consider volunteering for the Big Brothers Big Sisters of Clinton County.
The local program seeks to facilitate "1 to 1 matches between a youth and an adult to provide children facing adversity with strong and enduring professionally supported relationships that change their lives for the better, forever," according to the BBBS mission statement.
With the number of "Littles" nearly doubling the amount of "Bigs" in the Clinton County program, the BBBS staff continually seeks ways to include more adults in the mentoring initiative.
"There are 31 youth who participate in the program, and only 18 Bigs. Due to this, there are some youth who are not able to be matched with a Big," explained Program Supervisor Tristan Rock.
Children who are not matched with a Big are still able to participate in monthly activities planned by BBBS Coordinator Clarissa Shirk and BBBS Assistant Coordinator Kaylee Mulhollan, Rock noted.
"There are typically a minimum of 2 events each month," she said. "For the month of December the program went caroling at Susque-View and also made cookies for the holidays."
To make it easier for participants to join in, Shirk and Mulhollan send out monthly newsletters including a schedule of events – as well as transportation when possible.
"Statistics show that the BBBS program improves educational performance, builds confidence, and provides positive role models for youth. Youth who participate in the program are also less likely to skip school, or use drugs and alcohol," said Mulhollan. "Being a Big in the program is a creative way to give back to the community and provides the mentor with a sense of leadership, pride and responsibility."
One local boy knows exactly how much this program has touched his life – and he is still being served by it.
Harrison Morrow said his Big Brother – and the entire BBBS program – has helped him a lot.
"We have been together for 7 years, since I was 8 years old," he said of his Big. "He has taught me to be a better person. I used to be selfish and mad all of the time but he helped me with that."
Morrow said the BBBS program has helped him a lot too. "I used to be shy and they helped me open up."
Now, Morrow is considering volunteering for the program for his senior project.
To participate in BBBS, children must be between the ages of 6 and 17, live in Clinton County, demonstrate a need for having a Big, have the ability to build relationships and be willing to participate in the program.
Bigs need to be residents of Clinton County – or be enrolled at Lock Haven University – and also must complete an interview with BBBS staff, a background check and provide references.
"A Big is a positive role model and supportive friend. We look for someone a Little can trust, talk to, learn from and build skills to more fully participate in the community. They also must commit to meet with the little for roughly one hour, 2 to 4 times a month, for at least one year," Mulhollan noted.
That said, it's not always easy for the program to find and enlist Bigs.
"Most of the Bigs in the program are college students. This makes it difficult because many college students are only in Clinton County when school is in session. Many return home to other areas during breaks and summer vacation and are unable to participate in the program during those times. The Bigs from the university also graduate after several years and, if they live outside of Clinton County, their term with our program will end," explained Shirk. "We are grateful that Lock Haven University provides us with so many students willing to give of their time and we will continue to accept those students with open arms."
Local residents getting involved can provide a longer sense of stability for the youngsters in the program, Shirk noted.
"We are always looking for and would love to find more lifelong community members who are willing to donate their time to the youth in our program. Lifelong community residents are able to provide stability and consistency when matched with a Little," she said. "They have the highest likelihood of completing a match with a youth in its entirety, through the age of 17.  It is our goal to facilitate lifelong relationships; a friend and confidant that these youth can take with them into adulthood."
And the adults who participate also come away with rewards.
"Starting this career, I was excited to make a difference in children's lives. I never imagined the impact they would have on mine," said Mulhollan. "My wish is for the community to see how rewarding Big Brothers Big Sisters is, not only for the children, but also for the volunteers."
"Running the Big Brothers Big Sisters program has been such a blessing for me," Shirk agreed. "We have so many children in the community that need and deserve an adult mentor in their life… According to the Big Brothers Big Sisters of America 2016 Annual Report, children who are matched with an adult mentor are 97% less likely to engage in risky behaviors and 87% of the children improve or maintain their grades. To watch a successful match between a Big and Little develop into a lifelong friendship is the greatest gift of all."
Funded through Clinton County's Children and Youth Services, the program accepts donations as well.
Learn more about how you can get involved at by emailing bbbs@clintoncountypa.com, calling 570-893-2585 extension 5, or visiting www.bbbs.org.
---
Big Brothers Big Sisters Open House
Learn more about the Clinton County Big Brothers Big Sisters program at the BBBS Open House planned to be held from 4 to 8 p.m. Wednesday, January 25, at the BBBS office, 8 N. Grove St., Suite 2, Lock Haven.