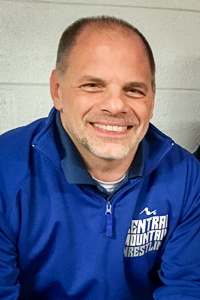 LOCK HAVEN — Dr. Thane Turner, MD, will be leaving the area to join a private practice in Massachusetts.
Dr. Turner's resignation at Lock Haven Hospital was recently accepted and word of his anticipated late summer departure has been relayed to the hospital community by Steven Davis, the hospital's chief executive officer. Turner's last day with the hospital will be in August. Davis said over the next few months he will be involved in the transition for the practice and his patients.
Contacted by therecord-online, Dr. Turner said the decision was a difficult one:
"This decision was obviously not an easy one for my family.  Lock Haven has been our home and so many people in this community have influenced our family in such a positive way over the years.  But it has become very clear at this stage in our lives that some important changes need to occur and we are committed to put our family first at this point in time.  This move will give us the opportunity to have the type of practice that will allow us to do that. "
Turner's departure comes during a time of transition in the delivery of health care services in the area. Pittsburgh-based UPMC acquired Williamsport-based Susquehanna Health last fall and multiple sources have confirmed that UPMC is looking at buying a tract of land off the McElhattan Exit of Route 220 for construction of a "satellite" hospital. Danville-based Geisinger recently announced it will be "integrating" with Jersey Shore Hospital.
Turner made reference to Geisinger and UPMC:
"Although I feel the many changes occurring in our area in healthcare may initially cause some struggles, I feel confident that the organizations investing in our region will no doubt in the long run improve the quality and access to healthcare that the community so greatly needs."
A Clearfield native, Dr. Turner was raised in Lock Haven and was a successful student/athlete at Lock Haven High School and Lock Haven University. He returned to the area after completing medical school and residency. Hospital's CEO Davis said, "For over 20 years he has given tirelessly of his time and talents to the Lock Haven Community."
Five years ago Dr. Turner joined the Haven Medical Center to be part of the growth of the hospital's primary care practice and the start of a Rural Health Center. He has been active in the community in a number of organizations, including involvement with Central Mountain High School activities as his children have attended school there. He also was a longtime volunteer tournament physician at the PIAA Northwestern Regional wrestling tournament. Dr. Turner will be located in his new practice in a small community south of Boston. He will be joining a former associate and friend in private practice.
Hospital CEO Davis said it was a pleasure to work with Dr. Turner in executing and expanding on the hospital's original vision with the Haven Medical Center. He wished Dr. Turner and family the best in their "new adventure together."
Three of Dr. Turner and wife Rachel's children will be in college this fall, the fourth entering high school:
Wife, Rachel:  Will take a break from practicing Physical Therapy and help focus on the Turner family and its transition to the New England area.
Daughter, Ellen:  Recent Graduate from Grove City College with honors in Mechanical Engineering.  She will be married in July to a fellow Grove City graduate and will be starting Grad School at Penn State University in the fall in Mechanical Engineering
Daughter, Avery:  Will be starting her junior year at Bloomsburg University, majoring in Elementary Ed (K-4), and Special Education
Son, Caleb:  Will be graduating from CMHS in June and will be attending Bloomsburg University in the fall Majoring in Finance and Accounting
Son, Benjamin:  Will be entering his freshman year in high school in the fall.