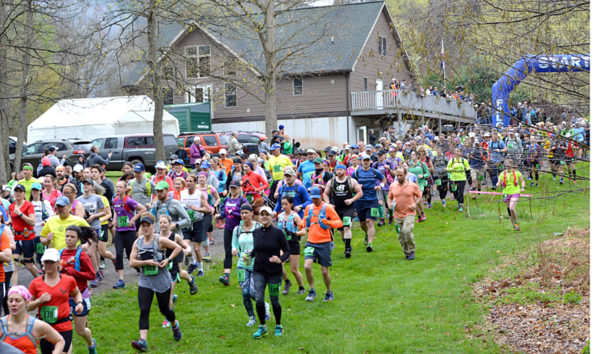 HYNER – Roughly 1,300 people participated in the 11th annual Hyner View Trail Challenge today, ultimately ascending 4,300 feet and trekking over 15 or 30 miles when all was said or done.
Taking off from and finishing at the Western Clinton County Sportsmen's Association Nature & Environmental Center, the 50K participants hit the trails at 8 a.m. with the 25K race beginning at 9 a.m. PA Department of Conservation & Natural resources Secretary Cindy Adams Dunn marked the start of the race, alongside race director Craig Fleming of the organizing group PA Trail Dogs.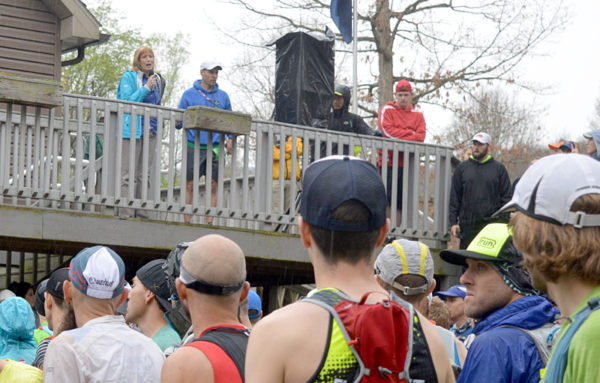 Secretary Dunn wished the runners well in the race ahead and also applauded the PA Trail Dogs' efforts in maintaining trails in Central Pennsylvania and working to provide trail-related recreational opportunities to residents and tourists. She noted the group is being honored with the PA Conservation Stewardship Award at the Champion of the Pennsylvania Wilds Awards banquet next Thursday, April 27 in DuBois. The award is one of 10 Champion Awards given out by the PA Wilds Center for Entrepreneurship, Inc., a nonprofit organization working to integrate conservation and economic development in the 12.5-county Pennsylvania Wilds region, based on nominations.
Runners crossed the Gold Star Mothers Bridge before hitting the ridges of the mountain toward Hyner View and scaling three major climbs and descents over a course of vistas and woodland paths. Hundreds of spectators and cheerleaders looked on from each vantage point.
Participants included folks from all over the country and beyond, according to Fleming.
In overall results, Matt Lipsey of Kersey, Pa., again took first place this year in the 25K with a time of 2:13:44.55, slightly behind his 2016 time of 2:12:17.92. A familiar face at local trail challenges, Lipsey has earned first place in the Boulder Beast, held on Bald Eagle Mountain, as well as the Hyner Half challenges, and has competed in the Frozen Snot race.
Sean Blanton of Atlanta, Ga., earned the second spot in the overall 25K with a time of 2:32:16.10; Norb Baier of Port Matilda took third with a time of 2:35:21.78.
Top three female finishers in the 25K were: Meira Minard of State College, who finished seventh overall at 2:42:38.55; Carol Dudokovich, Port Matilda was 15th overall at 2:47:46.52; and Leah Maher of New Providence was 23rd overall at 2:50.59.96.
In the 50K overall race, Clayton Bouchard of Lykens, Pa., took first with a time of 4:47:59.79. Andrew Simpson of York, Pa., took second at 4:51:24.99; Josh Litofsky, 25, of State College earned third with a time of 4:55:01.32.
Top three female finishers for the 50K were: Desirae Clark of Danville placed 23rd overall at 5:39:16.83. Jenny Rodgers of Jersey Shore paced 40th overall at 6:01:10.83. Juby Philip of Warrington placed 53rd overall at 6:10:39.69.
Timed by Falcon Timing, chips are placed inside runners' bibs and the results of this year's challenge will be posted on falconracetiming.com.
Learn more about the Hyner View Trail Challenge and the PA Trail Dogs – which has also organizes the Eastern States 100, the Rothrock Challenge, and the Prowl the Sproul 10K – at hikerun.com. For more information on the PA Wilds Center or the Champion of the Pennsylvania Wilds Awards, visit pawildscenter.org.
This slideshow requires JavaScript.