This slideshow requires JavaScript.
'Midday Matness' Marks First Practice for LHU Wrestling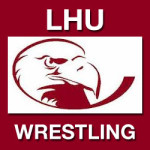 LOCK HAVEN – It's official: Chance Marsteller is again a member of the Lock Haven University wrestling team. The Bald Eagles kicked off their preseason work Tuesday with their annual "Midday Matness" outdoor practice adjacent to the Ivy Lane Fountain on campus.
Among the participants was Marsteller, a four-time undefeated PIAA wrestling champion who had transferred to LHU from Oklahoma State in 2016. But he ran afoul of the law in an altercation with police in August of last year and departed the team and school. Marsteller came back to school in January of this year, went through court proceedings and is now eligible to continue his wrestling career.
Marsteller said he was "grateful for the opportunity" and pledged to do what he can to help the program. The school announced his return in a Tuesday release after the outdoor work-out where Marsteller drilled with Bald Eagle assistant coach Robbie Weikel.
The university announced Marsteller's return in this release:
LOCK HAVEN, Pa. – Today (Tuesday, Oct. 10) marked the official start of the 2017-18 wrestling season and the LHU wrestling team held its first practice. The Bald Eagles took the show outdoors and held their first official practice of the season outside in the middle of campus for all to see. 
LHU fifth-year head coach Scott Moore and his squad enjoyed the warm early-fall weather in Mat-Town U.S.A. 
"Midday Matness is a nice way for the guys to break into the season," said Moore. "It's a fun way to gain exposure not just for LHU wrestling, but for all of collegiate wrestling." 
The 2017-18 season looks to be a promising one for the Bald Eagles as they return all four of their national qualifiers from last season. DJ Fehlman (R-So, 133), Kyle Shoop (R-So., 141), Ronnie Perry (R-Sr., 149) and Thomas Haines (R-Jr., 285) all return after competing at the NCAA Division I Tournament last season. Perry, a two-time NCAA qualifier, will move up to 149-pounds this season and Shoop will drop down to 141-pounds.
 
LHU will also benefit from Tristan Sponseller (R-Jr., 197), who provides veteran leadership. Corey Hazel (R-So., 174) got off to a sensational start last season at 184 and will make a move down to 174 this season. Sponseller's presence at 197 and Hazel's move to 174 will bolster the lineup. The Bald Eagles will also benefit from the return of Chance Marsteller (R-Jr., 165). Marsteller, like Haines, is a former four-time PIAA high school state champion. 
As part of today's first official practice of the season, the Bald Eagles released their roster and preseason depth chart. .
Quotes today's first practice.
– Head coach Scott Moore (5th season) on the upcoming season:
"The coaching staff is very excited about the upcoming season and thrilled that it's finally underway. We return a lot of guys who should provide great veteran leadership. I'm also looking forward to seeing how some of our talented newcomers and underclassmen adapt, and mix into the lineup. It's another strong schedule with some fun home matches and tournaments in store. It should be a good test, but our guys are putting in the work and will be ready for big things this season."
– Ronnie Perry on his final season at LHU:
"The goal heading into my final season is the same as before. I want to be on the podium at nationals and finish as an All-American."
– Thomas Haines on how he looks to build on last year's success:
"Being a national qualifier last year was a huge step in the right direction for me. This summer, I continued to work hard and build on my strengths while gaining new skills. I am extremely confident in my abilities going into this season, and I'm aiming my sights towards becoming an All-American this year.
– DJ Fehlman on what he learned most from last season:
"Last season, I learned to focus in all areas and always aim to do the right things in all areas including diet. If you really want to be successful you have to make a lifestyle change to take care of your body. I also learned that if you put in the time and actually believe that you are the best at what you do, then you become dangerous."
– Kyle Shoop on the experience gained from last season:
I wrestled a lot of matches last season and gained a lot of experience. I plan on using that experience in my training this year to achieve my goal of becoming an All-American.
– Tristan Sponseller on what he worked on most during the offseason:
"I worked on a second shot that I can rely on as much as my "go to" shot. Last year I tried to force shots too much, but working on this will help give me more options in neutral. I'm looking forward to a new season."
– Chance Marsteller on his return:
"I'm excited and looking forward to it. I've been working hard and I feel good. I'm grateful for the opportunity and I want to do whatever I can to help the team this season.