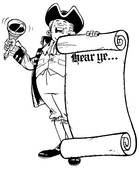 -Benefit Dance will be held for Jeannie Neuder on Sat. Nov. 22 at The Keystone Hotel, Renovo. Music by D.J. Brownie. Jeannie is battling throat cancer. Come help the Renovo Women's Dart League support her.
– Haneyville Vol. Fire Co. will be having a Sauerkraut & Pork dinner on November 23 from 4-8pm.
-STEP Office of Aging, Renovo Senior Center Schedule for November 24-28
Monday– 10:00 Morning Bingo/Bake Sale, 12:00 Flinch/Sevens, 2:00-3:00 Tai Chi, Tuesday – 10:00-11:00 Stretch Bands, 11:30 Southern Care-Diabetes, 12:30, Thanksgiving craft, Wednesday– 12:00 Cards, 2:00-3:00 Zumba Gold, Thanksgiving Meal, Thursday– Closed – Thanksgiving, Friday– Closed
– STEP Office of Aging Renovo Senior Center Bingo/Bake Sale on November 24 from 10-11:30 a.m. at The Renovo Senior Center in South Renovo.
– First United Presbyterian Church of Renovo will be sponsoring a Coat Drive
To donate a new or gently used coat there will be a drop box located at: Tony's Hardware, Yesterday's Restaurant and Lingles. Distribution will be held on November 24 from 10-1 and 4-7 at the First Presbyterian Church.
– The Renovo United Methodist Charge will be hosting a free Community Thanksgiving Dinner on Thanksgiving Day at the North Bend United Methodist Church from 1p.m. – 4 p.m. If you don't have nowhere to go, no one to spend it with, if you just want to come out and enjoy fellowship or if you simply just want to come, we certainly would love to have you… All are welcome. There will be limited deliveries and transportation to those who need it. You are asked to please call ahead for these services. If you would like to help or donate for the dinner, that is welcomed too. For more information please call 570-923-0295 or 570-923- 1439.
-Welcome the birth of the Christ Child this Christmas Day with your friends and neighbors at the Lock Haven First Church of Christ on the corner of Vesper and Water Streets. The theme this year is Faith, Hope and Love. We invite you to join us for the singing of Christmas carols, reading of Scripture and some brief devotional thoughts as we seek the Lord Christmas day. The service will begin at 10 a.m. and last approximately a half hour. Come and worship and celebrate the birth of Christ the King! For more information call 570-478-3719.
-Good News Club at Renovo is a fun filled interdenominational Bible instruction. Kids love the games, stories, snacks, prizes, songs and learning activities. We may take them on an adventure way down in Egypt land, or a journey through the wilderness, or a trip to the top of Mt. Sinai with Moses. We carefully screen our workers, and you will find that we care very much about your children. We work choices that will help them to succeed in life. Completed forms should be shown to your child's teacher and then placed in a special box in the school office. The Good News Club will meet at Renovo Elementary School after school hours on Tuesdays now through April 28, 2015. You may contact Gail White with questions at 923-2515.
-The Kids Club at North Bend United Methodist Church will take place on Tuesdays from 3-4 p.m. All kindergarten to sixth grade children are welcome for a fun time of singing, Bible stories, crafts, games, and snacks. For more information call 923-2034.
– Heavenly Racks is no longer accepting ANYTHING until further notice.
– Renovo Council of Churches food distribution will be held at Trinity Episcopal Church on the 3rd Thursday of each month from 9:30-11:30 a.m.
– Western Clinton Sportsman's Association meets the second Thursday of every month at 7 p.m. at the club house in Hyner.
-Benevolent and Protective Order of Elks Lodge #334 Meetings are held 2nd and 4th Tuesday of every month at 7 p.m. Elks Care, Elks Share. Exalted Ruler, Patricia Chavez.
– The Fraternal Order of Renovo Eagles 516 monthly meetings are held every 2nd and 4th Thursday of the month at 7 p.m.
– A Bible Study is being held every second and fourth Thursday each month at 10:00 a.m. in the Community Activity Room at Ransdorf Manor, Renovo. All are welcome to attend.
– The VFW Post 6178 is now meeting at Yesterday's again. They meet the first Wednesday of the month at 7 p.m.
– Fun Time/Free Time hours on Tuesday's and Thursday's only from 5 to 7 p.m. for children grades K-6 at the WCC Recreation and Fitness Center.
– The American Legion, Post 442, meets the second Thursday of the month at 7 p.m.
– Community Nursing Service sponsors the following support groups, which meet in Conference Room B of Susque-View.
– Bereavement Support Group, Second Wednesday of each month. For more information, please contact Nichole Crawford, Medical Social Worker at 570-748-8511.
– Alzheimer Support Group – second Tuesday of each month at 7 p.m. For more information call Fran Decker at the American Cancer Society, 1-888-227-5445.
– Cancer Support Group – second Thursday of each month at 7:30 p.m. For more information call Fran Decker at the American Cancer Society, 1-888-227-5445.
– AA meetings are held on Mondays at 7 p.m., and NA will meet on Fridays at 7 p.m., at the First United Methodist Church, Seventh Street.
– The Family Support Alliance parent support group will meet at the 7th Street Methodist Church on Tuesdays from 5:30 p.m. to 6:30 p.m. Use the alley side entrance. This is a support group for families. Everyone is welcome. Call 923-0833 or 923-1215 for more information.
– Free and confidential ESL (English as second language) classes will be held at The Development Center for Adults, 110 East Bald Eagle Street in Lock Haven on Tuesdays and Thursdays from 9 to 11:30 p.m. and 5:30 to 8:30 p.m. Call 893-4038 for more information.