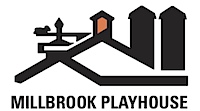 MILL HALL – The Board of Directors and Artistic Director David Leidholdt are pleased to announce the opening of Millbrook Playhouse's final Summer Saturday Kids Show as a part of the Playhouse's 2014 Season. Bunnicula (Story by Deborah and James Howe, Adapted for the Stage by Jon Klein, Music by Chris Jeffries) will be the next installment in MPH's children's programming on the Ryan Main Stage this coming Saturday, July 19 at 10 a.m.
It is a dark and stormy night when the Monroe family finally arrives home, bringing a surprise new addition to their household: an adorable little bunny. But this is no ordinary rabbit! Bunnicula is a vampire bunny who sucks the juice out of defenseless vegetables. Join the family's well-meaning dog, Harold, and their manic cat, Chester, as they investigate this thrilling mystery.
Bunnicula features many local actors, including Gavin D'Ulisse (Lock Haven), Delilah Heverly( Beech Creek), Jessica Brown (Bellefonte), Lloyd Shope (Eagleville), and Aimee Hunsinger(Mill Hall). The production also features actors from Millbrook's mainstage season, such as Ian Fairlee.
Directed by Millbrook Playhouse's Artistic Associate Joshua W. Kelley, this madcap musical adapted from the well-known book series will take the entire family on an exhilarating – though oddly furry – ride.
Performances will be July 19, and 26 at 10 a.m. Tickets are $5, and are available at the door, no advanced sales. For more information on tickets and performance schedules, call 570-748-8083 or visit www.millbrookplayhouse.org.