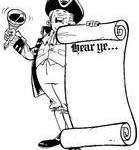 – Heavenly Racks is no longer accepting clothes until further notice.
– The Christian Community Church of South Renovo will host a Vacation Bible School for ages 4 through 13 on Monday, July 21 through Friday, July 25 from 6pm until 8pm.
– Beginning Monday, July 7 PA CareerLink-Clinton County will offer extended business hours on Mondays and Wednesdays from 8:30am until 4:30pm. The hours on Tuesdays, Thursdays, and Fridays will remain 8:30am until 12:30pm. The CareerLink office is located at 8 North Grove Street in Lock Haven. For more information please contact the CareerLink office at 570-893-4022.
– The Class of 1969 will hold their 45th Reunion on Saturday July 26 at Sportsman's at 6pm. For more information call Susie Clemmer at 570-923-2644.
-Heritage Park Blocks and Key Chains on sale.  For prices and information please call  Joanne Walker 923-0594.
-Bible Study will resume at the 6th Street Presbyterian Church basement on Tuesdays at 6:30 p.m.  A Study in Revelations.
– Renovo Men's Dart League meeting every Monday 7:00 p.m. at the Eagles.
– North Bend United Methodist Church, every second Saturday of the Month, dinner and dessert, 4 to 6 p.m. Eat in or out. Delivery available. Please check the Community Calendar for dates.
– Renovo Council of Churches food distribution will be held at Trinity Episcopal Church on the 3rd Thursday of each month from 9:30-11:30 a.m.
– Western Clinton Sportsman's Association meets the second Thursday of every month at 7 p.m. at the club house in Hyner.
-Benevolent and Protective Order of Elks Lodge #334 Meetings are held 2nd and 4th Tuesday of every month at 7 p.m. Elks Care, Elks Share. Exalted Ruler, Patricia Chavez.
– T.O.P.S. meets every Wednesday evening at the Baptist Church basement in North Bend. Weigh-in at 5:00 p.m., Meeting at 5:30 p.m. everyone welcome. First meeting is free. What do you have to lose?
– The Fraternal Order of Renovo Eagles 516 monthly meetings are held every 2nd and 4th Thursday of the month at 7 p.m.
– A Bible Study is being held every second and fourth Thursday each month at 10:00 a.m. in the Community Activity Room at Ransdorf Manor, Renovo. All are welcome to attend any time you are able.
– The VFW Post 6178 is now meeting at Yesterday's again. They meet the first Wednesday of the month at 7 p.m.
– New Fun Time/Free Time hours on Tuesday's and Thursday's only from 5 to 7 p.m. for children grades K-6 at the WCC Recreation and Fitness Center.
– The American Legion, Post 442, meets the second Thursday of the month at 7 p.m.
–  Community Nursing Service sponsors the following support groups, which meet in Conference Room B of Susque-View.
– Bereavement Support Group – Second Wednesday of each month beginning Feb. 8, 2012.  For more information, please contact Nichole Crawford, Medical Social Worker at 570-748-8511.
– Alzheimer Support Group – second Tuesday of each month at 7 p.m. For more information call Fran Decker at the American Cancer Society, 1-888-227-5445.
– Cancer Support Group – second Thursday of each month at 7:30 p.m. For more information call Fran Decker at the American Cancer Society, 1-888-227-5445.
– AA meetings are held on Mondays at 7 p.m., and NA will meet on Fridays at 7 p.m., at the First United Methodist Church, Seventh Street.
– The Family Support Alliance parent support group will meet at the 7th Street Methodist Church on Mondays from 5:30 p.m. to 6:30 p.m. Use the alley side entrance. This is a support group for families. Everyone is welcome. Call 923-0833 or 923-1215 for more information.
– Free and confidential ESL (English as second language) classes will be held at The Development Center for Adults, 110 East Bald Eagle Street in Lock Haven on Tuesdays and Thursdays from 9 to 11:30 p.m. and 5:30 to 8:30 p.m. Call 893-4038 for more information.