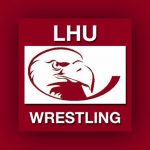 LOCK HAVEN – The nationally-ranked Lock Haven University wrestling team is set for a pair of weekend dual meets.
The Bald Eagles will open the weekend on the road Saturday (Jan. 20) at George Mason in Eastern Wrestling League (EWL) action. On Sunday, Lock Haven returns home to host Brown in non-conference action.
Lock Haven is coming off a 3-1 performance at the Virginia Duals. LHU picked up wins over Fresno State, Bucknell and Chattanooga to stretch the Bald Eagles season record to 7-1 overall. Lock Haven is 1-0 in EWL action after picking up a lopsided 37-2 win over local-rival Bloomsburg on December 16.
George Mason is 3-6 overall and 0-2 in EWL action with league-losses to Bloomsburg and nationally-ranked Rider. Lock Haven is 10-0 all-time vs. the Patriots and won last season's meeting 25-10.
Brown is 0-3 on the season with losses to Stanford, American and Maryland. On Saturday (Jan. 20), Brown is set to take on Franklin & Marshall and Bucknell, before heading to Lock Haven for Sunday's dual. Brown's lineup features one nationally-ranked wrestler as 184-pounder CJ LaFragola enters the weekend ranked No. 16. He's 9-4 on the season. Lock Haven is 4-2 all-time vs. the Bears, but the two teams haven't met since 1998, a dual that resulted in a 24-12 Brown victory.
The Bald Eagles will enter the weekend ranked No. 23 in the latest USA Today/NWCA Division I Coaches Poll. LHU was ranked No. 18 in the most recent InterMat Dual Meet rankings and the trio of Ronnie Perry (149), Chance Marsteller (165) and Thomas Haines (285) all remained nationally-ranked in the individual InterMat rankings this week.
LHU's 7-1 start marks the best since the Bald Eagles jumped out to a 7-0 record during the 2001-02 season. Lock Haven finished that season 17-4.
Bald Eagles in the national rankings:
The trio of Ronnie Perry, Chance Marsteller and Thomas Haines remained nationally ranked this week.
InterMat
– 149: Perry, No. 18
– 165: Marsteller, No. 7
– 285: Haines, No. 13
NCAA releases coaches' panel rankings (Jan. 18):
The NCAA has released its first edition of the coaches' panel rankings and five Bald Eagle wrestlers listed. Full NCAA rankings/release here. The rankings are an important part of the NCAA Tournament selection process.
141: Kyle Shoop, No. 24 (23-8 record)
149: Ronnie Perry, No. 16 (13-3 record)
165: Chance Marsteller, No. 8 (28-1 record)
184: Corey Hazel, No. 31 (16-6 record)
285: Thomas Haines, No. 13 (13-4)
George Mason in NCAA coaches' panel rankings: 125, No. 31 Ibrahim Bunduka; 285, No. 30 Matthew Voss
Brown in NCAA coaches' panel rankings: 157, No. 26 Justin Staudenmayer; 165, No. 31 Jon Viruet; 184, No. 18 DJ LaFragola
Shoop, Marsteller among nation's leaders in tech falls:
This week, the NCAA released updated standings for the 2018 NCAA Wrestling Awards and Kyle Shoop (141) and Chance Marsteller (165) found themselves ranked among the nation's best in tech falls. Both have seven vs. Division I opponents on the season, which ties them for second overall. Shoop gets a slight edge in the standings based on total time (32:01), compared to Marsteller's 32:41.
Student promo for Brown match: 
On Sunday, the Bald Eagles return home and are once again calling on student support. The first 100 LHU students with their LHU Student ID will get free LHU wrestling gear. The Brown match will be streamed on therecord-online, beginning just prior to the 1 p.m. start time.
Bald Eagles projected weekend lineup: 
125: Fr. Josiah Kline (Tucson, Ariz./Ironwood Ridge) 11-8
– 125: Fr. Luke Werner (Bethlehem, Pa./Liberty) 17-9
133: R-So. DJ Fehlman (Warren, Pa./Warren) 17-11
141: R-So. Kyle Shoop (Boiling Springs, Pa./Boiling Springs) 23-8
149: #18 R-Sr. Ronnie Perry (Christiana, Pa./Solanco) 18-3
157: R-So. Alex Klucker (Summerdale, Pa./East Pennsboro) 14-6
165: #7 R-Jr. Chance Marsteller (New Park, Pa./Kennard-Dale (Oklahoma State) 28-1
174: So. Jared Siegrist (Manheim, Pa./Manheim Central) 21-12
184: R-So. Corey Hazel (Spring Mills, Pa./Penns Valley) 16-6
197: R-Fr. Trey Hartsock (Lewistown, Pa./Mifflin County) 12-11
285: #13 R-Jr. Thomas Haines (Quarryville, Pa./Solanco (Ohio State) 13-4
– Jr. Derek Dragon (Harvey's Lake, Pa./Lake Lehman) 4-7
George Mason's projected weekend lineup:
125: Ibrahim Bunduka 16-7
133: Victor Echeverria 8-13
141: Trevor Mello 3-12
149: Tejon Anthony 15-7 | Ryan Yorkdale 1-2 | Justin Yorkdale 2-9
157: Bryce Reddington 9-10
165: Austin Wilkerson 0-2
174: Levko Higgins 3-11 | Daniel Mika 0-1
184: Austin Harrison 3-7
197: Eli Spencer 3-8
285: Matthew Voss 16-8
Brown's projected weekend lineup: 
125: Trey Keeley 8-11
133: Nick Lattanze 6-2 | Hunter Kosco 8-7
141: Jimmy Pawelski 7-13 | Zeke Salvo 6-7
149: Zach Krause 12-9 | Charlie Banaszak 2-2
157: Justin Staudenmayer 15-7
165: Jon Viruet 14-7 | Bryce Rogers 11-9
174: AJ Pedro 10-7 | Christian LaBrie 1-2
184: #16 DJ LaFragola 9-4 | Nino Bastianelli 8-7
197: Tucker Ziegler 9-8 | Austin Pfarr 3-6
285: Ian Butterbrodt 9-10
Up next:
Following Sunday's (Jan. 21) home non-conference match with Brown, the Bald Eagles will return to action on Saturday, Jan. 27 (7 p.m.) at No. 19 Rider in an important EWL dual. LHU will head to Columbia for non-conference action on Sunday, Jan. 28 at 1 p.m. to close out next weekend's action.