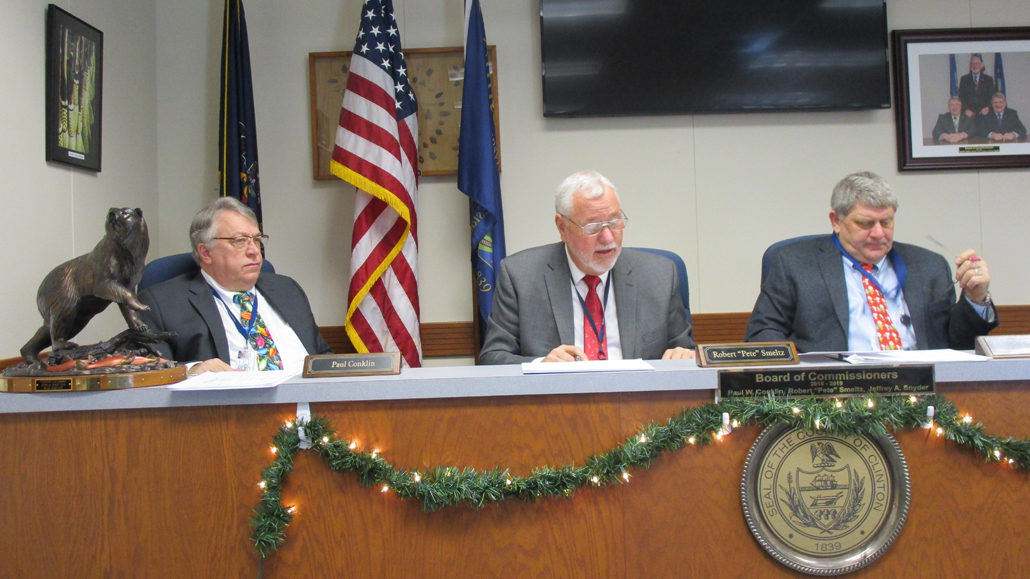 By John Lipez
LOCK HAVEN – The Clinton County Commissioners Thursday gave final approval to a 2018 operating budget. It calls for no increase in taxes next year but will tap the county's reserve fund for $500,000 to balance the $38.623 million document. The county's real estate millage will stay at .006. Board chairman Pete Smeltz said real estate taxes account for $12.3 million of the budget, something in the neighborhood of 33 percent.
This year's budget amounts to $42.4 million. The drop to $38.623 million next year comes from, the commissioners said, a smaller amount needed from an existing bond issue in 2018.
A continuing unknown is the financial impact of anticipated new labor contracts with some 130 county employees. Current pacts are to expire at the end of this year with Council 86 of the American Federal, State, County and Municipal Employees (AFSCME). These include court-related employees, correctional officers, cooks and maintenance workers at the county correctional facility and deputy sheriffs. Smeltz said the county is "real close" to finalizing an accord. The commissioners had said earlier they had built some dollars into the 2018 budget to cover the expected contract accord.
Meanwhile staff turnover continues at the Clinton County Correctional Facility. The commissioners approved a number of personnel moves which included the departure of four correctional officers: a transfer (Jordan Bartges leaving the prison staff to become a deputy sheriff), a termination (captain Paul Risley), a resignation (Brayden Lynch) and a retirement (James Simpson).
The changes also included approval from part-time to full-time status for prison guard Derek Zales. The commissioners said they believe the staffing at the correctional facility is down two officers. Smeltz said the county has part-time officers "in the pipeline" as replacements. Commissioner Jeff Snyder noted the continuing problem of training guards, then having them move on to similar slots paying more money elsewhere.
Smeltz said the turnover is not always about the money. He said some guards may be employed for seven or eight months and decide correctional work is not what they want.
The commissioners also gave retroactive approval to a "proclamation of excellence" to retiring Woodward Township Supervisor Clyde Glossner. The longtime township official was honored at a supervisors' meeting earlier this week and the commissioners joined in the recognition of his 47 years as a township supervisor.