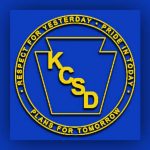 BALD EAGLE TOWNSHIP – It's that time of the school year. Weather will be a factor and Keystone Central School District wants you to have the information as soon as possible.
We understand that arrangements often times need to be made.
When conditions warrant the possibility of delaying or closing schools, Transportation and Security Officer Brandon Coleman will be in contact with Superintendent Kelly Hastings. Other local agencies assisting in the decision include: PA Department of Transportation, Pennsylvania State Police, and the Communication Center, as well as Susquehanna Transit to assess road conditions across our district.
Please remember, KCSD is a large district geographically. (The largest in the state of PA.) While it may not seem treacherous where you are, other roads and communities may be inundated and more dangerous.
The decision to delay or close schools will be made by 5:30 a.m. When a decision to delay is made, conditions will continue to be monitored and if warranted, the decision to close schools will be made by 7:30 a.m. on a two hour delay or 8:30 a.m. on a three hour delay.
Please look to your preferred news source for the information:
On-Line:
KCSD Website www.kcsd.k12.pa.us
KCSD Facebook Page www.facebook.com/KeystoneCentralSchoolDistrict
KCSD Twitter Page @KeystoneCentral
The Record Online therecord-online.com
Radio:
• WBUS/WMAJ 93.7/99.5
• WQBR 99.9
• WILQ/WRVH/WWPA 105.1/107.9/1340
• WJSA 96.3
• WSQV / WBPZ 92.1/1230
• WZYY 106.9
• WPSU 91.5
Television:
• WBRE/WYOU
• WNEP
• WTAJ
Delay Start Times:
2 Hour Delay:
School 2 hour Delay Start
Bucktail HS/MS 9:55
Central Mountain HS 9:55
Central Mountain MS 10:00
Dickey 9:50
Liberty Curtin 9:50
Mill Hall 10:00
Renovo 9:55
Robb 10:00
Woodward 10:10
3 Hour Delay:
School 3 hour Delay Start
Bucktail HS/MS 10:55
Central Mountain HS 10:55
Central Mountain MS 11:00
Dickey 10:50
Liberty Curtin 10:50
Mill Hall 11:00
Renovo 10:55
Robb 11:00
Woodward 11:10
Early Dismissal Times:
2.5 Hour Early Dismissal:
School 2.5 hour Early Dismissal
Bucktail HS/MS 12:52
Central Mountain HS 12:42
Central Mountain MS 12:28
Dickey 12:20
Liberty Curtin 12:25
Mill Hall 12:25
Renovo 12:15
Robb 12:20
Woodward 12:20
3.5 Hour Early Dismissal:
School 3.5 hour Early Dismissal
Bucktail HS/MS 11:52
Central Mountain HS 11:42
Central Mountain MS 11:28
Dickey 11:20
Liberty Curtin 11:20
Mill Hall 11:25
Renovo 11:15
Robb 11:20
Woodward 11:20