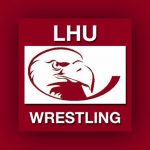 LOCK HAVEN – Thomas Field House rocked for wrestling Friday night as it has not for a long, long time.
The unranked Bald Eagles took on #11 ranked Rutgers and in a back-and-forth dual meet heavyweight Thomas Haines sent the home crowd into a frenzy with a first period (0:43) fall over the Scarlet Knight's Razohnn Gross.
The dual meet was knotted at 16-16 heading into the 285 pound final bout. There was an early Haines-Gross flurry in front of the Rutgers bench. Haines (5-2) was able to step over Gross, lock in his legs and secure the fall; pandemonium followed.
The win was a huge one for coach Scott Moore's program. The Bald Eagles went 8-8 a year ago and had not defeated a ranked team since a 21-17 win over #22 West Virginia in the 2004-05 season. With but one senior in this year's line-up, the victory served notice that the LHU program is one to be watched as the season unfolds.
The Scarlet Knights jumped to a 7-0 lead after two weights but then LHU took the next four bouts to assume a 16-7 lead. Sophomore Kyle Shoop (9-3) started the string with a 13-0 major decision over Michael VanBrill. At 149 pounds, Ronnie Perry (6-1), the lone Bald Eagle senior, won a key match-up of nationally-ranked wrestlers; Perry, # 15, dominated #13 Eleazer DeLuca (3-1), 5-1. Sophomore Alex Klucker (10-2) crunched Nick Santos by a 16-1 score to make the team score 16-7 LHU at halfway break.
Junior Chance Marsteller (12-0) made his much anticipated home mat debut a successful one with an 11-3 major over John VanBrill. That pushed the score to 16-7 LHU with four weights to go.
Rutgers would come back with narrow wins at the next three weights to tie things up at 16-16 heading into the Haines fireworks at heavyweight.
Coach Moore called the win a complete team effort and lauded his grapplers for their fight from start to finish, win or lose.
LHU will next be in action next Saturday, Dec. 9 at the PSAC Championships at Edinboro. The Scots are the defending champs but the Bald Eagles served notice they will be a force to be reckoned with.
Takedowns Friday saw Rutgers with a 14-11 edge. Bouts were split 5-5, LHU earning the win on bonus points, including the final six from Haines who roared to his feet after his fall. The match marked the return of Rutger's Nick Suriano (8-0) to central Pennsylvania. He had been Penn State's 125 pound wrestler last season but transferred back to his home state over the summer. He picked up a 19-5 win over promising LHU freshman Josiah Kline (8-5).
Rutgers was 3-0 on the season coming in, including a win over #21 Oklahoma.
Lock Haven 22 – No. 11 Rutgers 16
125: No. 2 Nick Suriano (RU) major dec. Josiah Kline (LHU) 19-5; Rutgers leads 4-0
133: No. 10 Scott DelVecchio (RU) dec. DJ Fehlman (LHU) 11-5; Rutgers leads 7-0
141: Kyle Shoop (LHU) major dec. Micheal Van Brill (RU) 13-0; Rutgers leads 7-4
149: No. 15 Ronnie Perry (LHU) dec. 13 Eleazar DeLuca (RU), 5-1; TIED 7-7
157: Alex Klucker (LHU) tech fall Nick Santos (RU) 16-1 (7:00); Lock Haven leads 12-7
165: No. 10 Chance Marsteller (LHU) major dec. John Van Brill (RU) 11-3; Lock Haven leads 16-7
174: Joe Grello (RU) dec. Jared Siegrist (LHU) 3-2; Lock Haven leads 16-10
184: Jordan Pagano (RU) dec. Corey Hazel (LHU), 4-2 SV; Lock Haven leads 16-13
197: Nick Gravina (RU) dec. Tristan Sponseller (LHU) 6-4; TIED 16-16
285: No. 15 Thomas Haines (LHU) pinned Razohnn Gross (RU) 0:43; Lock Haven wins 22-16
*rankings = InterMat (Nov. 28)