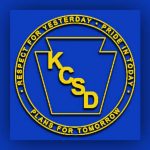 BALD EAGLE TOWNSHIP – While no one in officialdom will comment, Terry Murty is out as head of curriculum and director of federal programs at the Keystone Central School District.
Therecord-online has learned district officials were told of his departure at a meeting on Nov. 10 and he has not been in the district since that time. Murty was a former district elementary teacher who rose through the ranks and took over the district's curriculum responsibilities after former curriculum head Kelly Hastings was elevated to superintendent in 2009.
Murty's departure will soon be followed by Hasting's. She announced in August she would be stepping down on March 12 of next year. Hastings had been approved by the school board on a 6-3 vote for a second 5-year term as superintendent in November of 2014.
A district source told therecord-online there would be some word on the Murty departure and the search for a new superintendent at the board's December 7 organizational meeting.
The district is dealing with a projected multi-million dollar deficit for the next school year and a community task force has been involved in the effort to find $10 million in cuts.