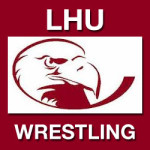 WEST POINT, N.Y. – The Lock Haven University wrestling team claimed four individual champions to highlight a dominating performance at Sunday's Black Knight Invite, a six-team tournament, hosted by Army West Point.
Kyle Shoop (Boiling Springs, Pa./Boiling Springs), Ronnie Perry (Christiana, Pa./Solanco), Chance Marsteller (New Park, Pa./Kennard-Dale) and Thomas Haines(Quarryville, Pa./Solanco) all claimed individual titles.
Shoop, Perry, Marsteller and Haines all went 3-0 in their respective weight classes on the way to the individual championships.
The four champs marked the most of any team in the tournament field, which included No. 11 Rutgers.
The Bald Eagles were 4-2 overall in the finals as both DJ Fehlman (Warren, Pa./Warren) and Alex Klucker (Summerdale, Pa./East Pennsboro) placed second overall in their respective brackets.
Corey Hazel (Spring Mills, Pa./Penns Valley) finished third at 184, while both 125-pounder Josiah Kline (Tucson, Ariz./Ironwood Ridge) and 197-pounder Tristan Sponseller (East Berlin, Pa./Bermudian Springts) placed fifth to round out the all-around dominant performance at Army.
Shoop, one of Lock Haven's four returning national qualifiers, put on a clinic at 141 pounds. He was 3-0 with a major and two tech falls. Over his three-match span, he surrendered just one point and outscored his opponents 46-1.
Shoop opened day with a 14-1 major of Army's Austin Harry, before recording a 16-0 tech fall win over Mike Van Brill of Rutgers. In the finals, Shoop dropped Joseph Ross of Binghamton, 16-0.
For his dominating effort, Shoop was named the tournament's Most Outstanding Wrestler.
At 149, two-time NCAA qualifier and nationally-ranked Perry dominated the field on the way to the title. He was 3-0 with three major decisions. He majored Dylan Wood (Binghamton), 8-0 to open the day and followed it up with an 11-1 major of Army's Knox Fuller. In the finals, Perry majored Frank Garcia (Binghamton), 15-3 for the title.
For the third straight weekend, Marsteller won a tournament title for the Bald Eagles. After going a perfect 3-0, the nationally-ranked 165-pounder remained unbeaten on the season as he pushed his season record to 11-0. Marsteller opened the day with a 19-3 tech fall win over Dominic Percuelli (Tennessee at Chattanooga.) and followed it up with a 3-1 decision over a tough Vincent Deprez of Binghamton. In the finals, Marsteller dropped Army's Andrew Mendel 11-4.
Haines, a returning national qualifier who is nationally-ranked, went 3-0 on the way to the 285-pound title. He majored Army's Gavin Berkley 8-0 in the day's opening bout and won 9-2 over Connor Tolley (Chattanooga). In finals, Haines put an exclamation point on the day for Lock Haven, pinning Razohnn Gross of Rutgers in just 1:20.
Fehlman, a returning national qualifier, was second at 133 after going 2-1 on the day. He downed Wade Cummings (Chattanooga) 9-3 and beat Jacob Nicholson (Binghamton). In the finals, Fehlman fell to top-seed Andy Schutz of Bloomsburg, 9-2.
Klucker continued his strong early-season run at 157 pounds and placed second. Klucker opened his tournament with a 14-1 major of Army's Beau Guffey and he pinned James Saylor (Army) in 4:02 to earn a spot in the finals. In the title-bout, Klucker was edged by Luke Weiland (Army), 8-6, despite another solid effort.
Hazel (184) opened the day with a 9-7 decision, but dropped his second match of the day in a tight, 5-2 bout. He won 6-4 in the consolation-semifinals and edged Bloomsburg's Trevor Allard, 6-5 in the third-place match.
After dropping his first bout of the day, Kline (125), rattled off three straight wins which included a tech fall and two pins. He lost in the consolation-semifinals, but again, he bounced back and majored Bloomsburg's Willy Girard 17-7 for fifth place.
Sponseller (197) was 2-2 and capped the day with a quick pin. After opening the day with a narrow 4-2 loss, he won 3-0. Sponseller was again edged out in the consolation-semifinals, but saved his best for last and pinned Army's Alex Hopkins in just 29 seconds in the fifth-place bout.
The Bald Eagles will return to action on Sunday, Nov. 26 when they host the 12th annual Mat-Town Open at 9:30 a.m. More information available at www.GoLHU.com.
On Friday, Dec. 1, the Bald Eagles will host nationally-ranked Rutgers at 7 p.m. The dual is the first home dual of the season and LHU wrestling is calling for a WHITE OUT of Thomas Fieldhouse. The match is also Veterans Appreciation Night and all veterans will be admitted to the match free of charge. For more information on the match and ticket information visit the wrestling page at www.GoLHU.com.