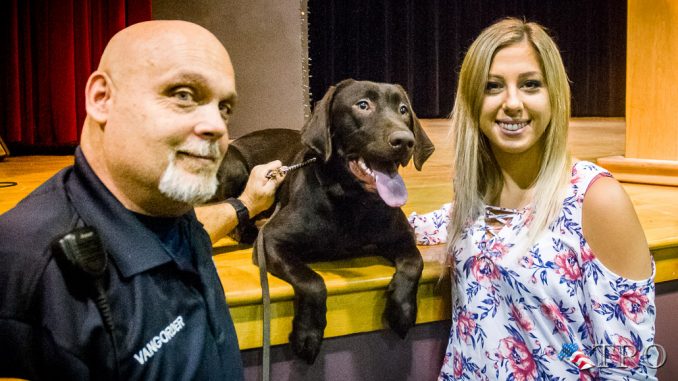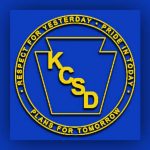 BALD EAGLE TOWNSHIP – The Keystone Central School District has its first police dog. Dutchess, a 14-month-old chocolate lab, was introduced to the community in a special program for the media and local law enforcement officials at Central Mountain High School on Wednesday.
Dutchess and her handler, school district security officer Scott VanGorder, demonstrated the dog's role in tracking down any illegal drugs at Central Mountain or anywhere else in the district. They were introduced by Brandon Coleman, the district's lead police officer. He said the purpose for the animal is three-fold: if there are drugs in school, get them out; prevention of drugs in school; and involvement in education detailing the negative effect of drug use.
VanGorder, with 32 years in handling specially trained K9 dogs, said the local district is one of a relatively few to have such an animal in house. Dutchess will be housed most often in VanGorder's office at the high school but will also visit other district schools as needed and as part of the district's efforts to educate against drug use.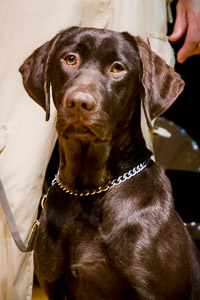 Coleman traced how Dutchess came to Central Mountain. The process began a year or so ago and an effort was made to raise $10,000 for the costs associated with the dog's procurement so there would be no expense to the school district. He said project supporters had budgeted $6,000 towards the purchase of such an animal, but saved that amount when the dog's owner, Erin Gregor, provided the animal at no cost to the district. Gregor, a dog trainer from Stroudsburg, said she knew immediately that Dutchess had the needed traits to be successful in tracking down contraband.
VanGorder said the animal is now completing its training and will be fully certified by January. He lauded Dutchess "as good as any" of those he has been involved with over 32 years in dog handling.
Coleman thanked the donors for "giving us the ability to bring Dutchess" to the school district, particularly lauding Calico Creek Feed & Pet's Heather Robinson and Calico Creek Veterinarian Dr. Sherry Cokefair. They are providing Dutchess with free food and health care during her time with the school district.
Others thanked were Woolrich, Inc., Susquehanna Trailways, Dr. Richard Powers, Texas Restaurant, H & R Block, the Skibba family, Adam Mayes, Mill Kiwanis and the local PennDot. Coleman said funds have been used to build an outdoor pen for the dog and additional funds will be sought to assist in its upkeep.